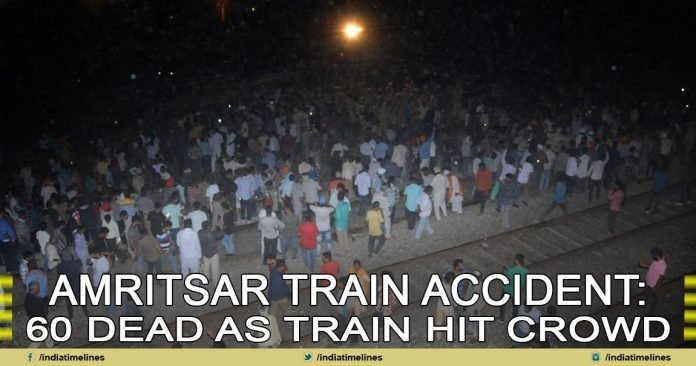 Amritsar Train Accident:- On the occasion of Dussehra, a large number of the crowd were celebrating the Dussehra, when fireworks start from the effigy then something terrible tragedy happened. Jalandhar-Amritsar DMU killed more than 60 people standing on a railway track on yesterday evening in Amritsar. As this function was happening very near to the tracks at Jaura Phatak- due to the exploding crackers, the crowd couldn't hear or see the train. After this incident public shouted slogans in against of Navjot Kaur Sidhu, who was there as the chief guest at the time of the event. Amarinder Singh, the Chief Minister has ordered an investigation into the accident. He had set up a Crisis Management Group to monitor the rehabilitation and relief efforts of the shocking train accident in Amritsar.
Amritsar Train Accident: Latest Updates
The disaster occurred at the Joda Fatak area where a huge public came together to celebrate the Dussehra festival. As the fireworks started, the coordinators requested the public to move back. A huge public stepped back and move towards the railway tracks. More than 70 people injured in the Amritsar train accident, seven of them were in critical conditions, as per the official reports.
In the meantime, the Jalandhar-Amritsar DMU was crossing a railway track. Police authorities said that the revelers couldn't hear and see the train sound due to the loud sound of firecrackers from the effigy and were unable to go anywhere. Eyewitnesses stated that the  Amritsar-Howrah train had crossed the spot minutes sooner. In case, if these two trains crossed at the same time, the losses would have been significantly higher.
Dussehra was being enjoyed in the Amritsar (East) constituency represented by Navjot Singh Sidhu (Punjab Cabinet Minister). The former MLA from the area and his wife, Dr. Navjot Kaur Sidhu, as present at the celebration and went before this incident occurred.  "I had left the spot just minutes sooner after watching that all arrangements were set up," She told media after the accident. "I returned when I got a call about the tragedy."