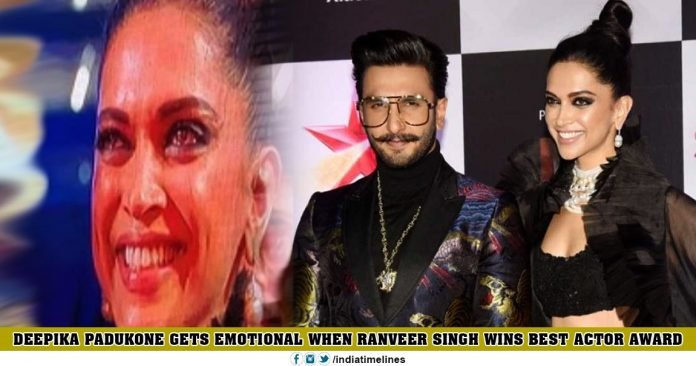 Deepika Padukone Gets Emotional when Ranveer Singh won Best Actor Award:  A recently married couple Deepika Padukone and Ranveer Singh made a major turning point in the star screen awards 2018  on Sunday in Mumbai. They say that your loved one is not very proud of being big in life, but it is also bigger than when he loves, he accepts your love and support in front of hundreds of people, gives credit. This is What happened between Deepika Padukone and Ranveer Singh at Star Screen Awards last Night.
Ranveer Singh Won Best Actor Award
Last Night in the awards, Ranvir won Best Actor award for the depiction of Alauddin Khilji in Sanjay Leela Banshali's movie 'Padmavat'.The actor gave an emotional speech on receiving the award which went viral on social media, Deepika Padukone Gets Emotional When Ranveer Singh Won Best Actor Award. Last night, the newly married couple danced in the Star Screen Awards in Mumbai, wearing a color consolidated organization. While Deepika watched Anamika Khanna as all black, Ranvir Singh Congratulated her with her quirky style statement, denoted to the gangster look. But the award was stolen limelight at night, Was given a speech from Ranveer' heart, which came out of the teary eyes of the wife  Deepika Padukone.
He pointed to Deepika and said, "The film did not get the main crown queen (I did not get a queen in the film), but in the real life, I got my queen." Ranveer said, "Baby, I love you, I have received Chief Men's Last for 6 years, you have kept the ground, keep concentrated, thank you for everything and I love you. (Whatever I am It has been Performed  in the past 6 years because you have concentrated and grounded me). "
After this, he thanked filmmaker Sanjay Leela Bhansali for 'Padmavat' and thanked him for shaping him as an actor. The actor thanked his mother, father, and sister. Ranveer dedicates the award to his family's grandmother this year and concludes his moving speech.