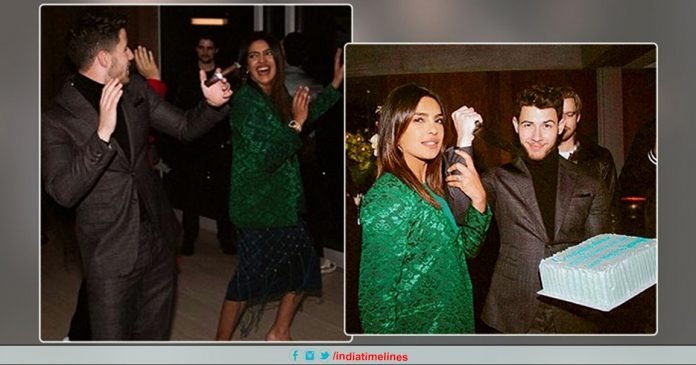 Grammys 2019: Though Actress Priyanka Chopra and American singer Nick jonas were not nominated for the Grammy awards. But still, they were the part of the Grammy Weekend. The new couple was seen partying and encouraging their friends for the Grammy Awards. Priyanka wrote a  hashtag and mentioned "What a great night celebrating our friends who are nominated for the Grammys.. good luck to everyone tonight!!.
The newly married couple were enjoying each and every movement. While Priyanka was looking stunning in a green fringed top with a skirt,  whereas Nick was stealing attention with his black turtleneck with a grey suit.
Grammys 2019 Highlights
The couple attended Sir Lucian's Grainage Artist Showcase 2019, organized in Los Angeles prior before the Grammy weekend. Priyanka was wearing a stunning white dress, while her husband Nick choose a casual to go with.
The pictures were posted by Priyanka Chopra, in one of the pictures the singer is seen attacking a cake with a stable knife and his wife laughed at his activity. Priyanka and Nick were enjoying their dance together with their friends at the party and their moves were reminding everyone about the Bollywood dance numbers.
In Grammys 2019, The couples were seen posing with Canadian singer Shawn Mendes. Nick Jonas shared some cute and adorable videos while meeting Mendes.  The two of them shared hugs while Priyanka was standing in between them. Nick and Priyanka performed by Midland, Chainz, Post Malone at the attended.
The couple married last year and are stealing more and more attention with their cuteness and togetherness. The couple is loved and admired by the people and they are enjoying Nick and Priyanka Together. Despite a huge gap difference between them, the couple is known for their bonding with each other. People are loving their chemistry and looking forward to their togetherness in the future.