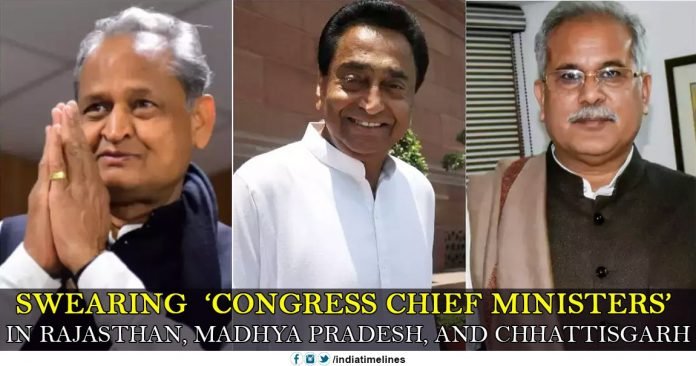 Swearing 'Congress chief ministers' in Rajasthan, 22nd Chief Minister,  Ashok Gehlot has taken the oath. Governor Kalyan Singh administered the oath. With this, He becomes the Chief Minister for the third time of the state. Sachin Pilot also took an oath with him. He has appointed Deputy CM in Rajasthan. Sachin's During his Father's late Rajesh Pilot's look was wearing a red turban on his head.
Swearing 'Congress chief ministers' in Rajasthan
Former CM Vasundhara Raje was also present in the venue. At the function, Congress President Rahul Gandhi, along with Manmohan Singh, Mallikarjun Kharge, Jyotiraditya Scindia, Navjot Singh Sidhu, Jitin Prasad, and many UPA veterans were present. The swearing-in ceremony was held in Jaipur's historic Albert Hall.
Swearing Congress chief ministers Ashok Gehlot will be the Chief Minister of Rajasthan while Kamal Nath will be the Chief Minister in Madhya Pradesh, then Bhupesh Baghel will be the Chief Minister of Chhattisgarh. Congress President Rahul Gandhi will take part in the three swearing-in ceremony. Former Prime Minister HD Deve Gowda, Karnataka Chief Minister HD Kumaraswamy, former Jammu and Kashmir Chief Minister Farooq Abdullah, many important leaders of the opposition can participate in the festivals.
Andhra Pradesh Chief Minister N. Chandrababu Naidu, RJD leader will participate in the staggering festival Others, including AIUDF leader Badruddin Ajmal, TMC leader Dinesh Trivedi, and LJD leader Sharad Yadav has been invited to the ceremony.
After Oath of Gehlot and Pilot, Kamal Nath will now take oath as the Chief Minister of Madhya Pradesh In Bhopal. At Round 4 pm, Bhupesh Baghel will take the oath of Chhattisgarh Chief Minister. After winning the assembly Election in these three States, the Congress government is forming. Congress has won in all the three states of Rajasthan, Madhya Pradesh, and Chhattisgarh. In all three states, there was a BJP government.