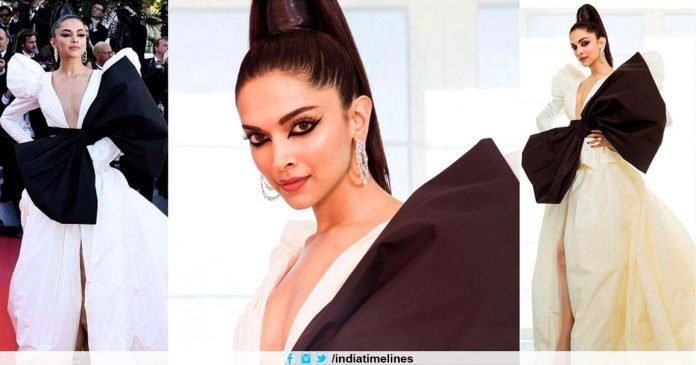 Deepika Padukone Slays Cannes 2019:- On Friday evening, Deepika Padukone appeared for the second time on the red carpet at Cannes 2019. In the ongoing Cannes Film Festival Deepika Padukone, wearing a white and chocolate brown gown designed by  French Riviera,  on the first day when she walked on the red carpet. Deepika has uploaded several photos on social media. On the first day, Mastani, she wore a white colour gown, which was absolutely looking beautiful, the next day she appeared in the parrot green dress. To complete this dress, she was wearing a bow scarf on her head. Deepika looked beautiful in this look. But some people troll her. Deepika's look on social media was described by her husband Ranvir Singh as Inspire.
Deepika Padukone Slays Cannes 2019
Deepika wore designer Giambattista dress for the second day in Cannes. She had a pink scarf tied on her head. It is also known as the Headband Scarves. She completes her look with Smoky Eyes, Nude makeup and light lipstick which is giving her diva look. Deepika's sister Anisha also tweeted funny and wrote – The time of year is when I do Google how to pronounce Cannes. Deepika also gave a cool reply to Aneesa's comment. They quote she tweeted and wrote – smallie come with me, I will teach you.
Deepika's look is being trolled on social media. A user wrote – If the dress is quite dramatic, then what is the need for headpieces? Another user wrote that – Met was wearing normal clothes in Gala and came in a dramatic look in Cannes. A Person told Deepika, looking like an ice cream flavored raw mango. For the latest news, you can visit www.indiatimelines.com.
Deepika Padukone is going to Cannes since 2010. There she is promoting popular brand Loreal. Deepika was seen on the first day in addition to the red carpet in many different looks. Her every look was also well-liked. But the other red carpet look is not particularly liked. Even though people troll Deepika. But her husband Ranvir liked this look and praised Deepika's look on Instagram.