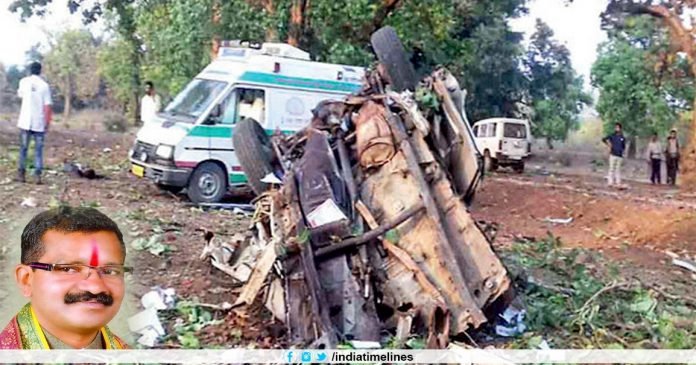 Dantewada Naxal Attack: The Bhartiya Janta Party MLA Bhima Mandavi and Four Security Personnel were killed on Tuesday when the suspected Maoists attacked Chattisgarh's Dantewada district on their Convoy. The state of the First phase of Lok Sabha elections. Dantewada comes in the Bastar Lok Sabha Constituency, which Goes to polls on April 11. The Election Commission said that the first phase of voting in the state will be as per the prescribed schedule.
An assassination took place on Shyamagiri hills when the MLA's convoy was going from Bacheli area to Kawakonda, which is about 450 kilometers from state capital Raipur. The Maoists blew up a convoy vehicle with an improvised explosive device (IED) and opened fire on its occupants. Police sources said that security forces were taken to the area.
Dantewada Naxal Attack: BJP MLA Bhima Mandavi, four security personnel killed
The deceased security personnel was identified as driver Danteshwar Maurya and the force of the district force Chhagan Kuldeep, Somu Kawasi and Ramlal Oyami.
PM Modi condemns an attack- Prime Minister Narendra Modi and Union Home Minister Rajnath Singh tweeted the condolence message and paid homage to those killed. Mr. Modi strongly condemned the attack and said that the sacrifice of those killed will not be wasted. Congress condemned the attack, party president Rahul Gandhi termed it as a "very tragic" incident.
Chhattisgarh Chief Minister Bhupesh Baghel has spoken to the DG, anti-Naxal operation. "I am in touch with Union Ministers and one hour ago PM spoke to Narendra Modi. I will go to Dantewada and meet the families of the deceased", Former CM Raman Singh said. For the elections to be held on 11th April, a security blanket of more than 80,000 personnel and drones has been deployed in and around Bastar area.
Dantewada Naxal Attack- Immediately after the Dantewada Naxal attack, the Chief Electoral Officer (CEO) of the state has organized a meeting with collectors and SP of Naxal-affected districts covering the elections of Phase I and Phase II through video conferencing. The Election Commission spokesman said that the CEO has instructed all caution in the next few days in view of elections. The initial findings show that against the advice of a police station in-charge of the area, Mr. Mandavi had taken a path where the security personnel did not have a party to open the road, the commission was told. For the latest updates, you can visit www.indiatimelines.com.
Four Border Security Force (BSF) jawans were killed and two others injured in an encounter with the Maoists in Kanker district on Thursday.