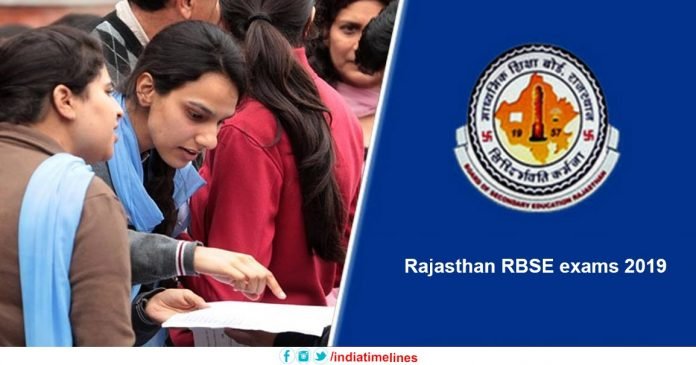 Rajasthan RBSE exams 2019: The Class 12th examination will start from March 7, during the Class 10 examination from March 14, 2019. In this year, over 20 lakh students will be present in the Board Examinations, Rajasthan Board has taken several suggestions for not cheating in the examination time.
Rajasthan RBSE exams 2019, The examination to be held in March this year will include more than 20 lakhs students, Around  9 lakhs students will occur in 12th and 11th lakh students will appear in 10th. Examinations of 12th will start on March 7 while the 10th exam will start from March 14.
Rajasthan RBSE exams 2019
Rajasthan Board has taken several ideas for not cheating in the examination.accprding to Meghna Choudhary, secretary of Rajasthan Board Secondary Education, the board has divided districts in the Sensitive, HyperSensitive and Less Sensitive Zone. The special administrative setup for every zone has been set up. 8 districts have been kept in the category of hypersensitive and on each exam center in these districts the board will conduct 100%  videography.
Rajasthan RBSE exam 2019: Over 20 lakh to appear, Admit Card
Meghna Chaudhary further said, " The board has also identified the centers where cases of duplicate were first revealed. There are 300 centers in the state and every center in under the supervision of CCTV. The Board will install 300 CCTV".
The admission card will be available a week before the 10th and 12th exams. Practical exams of both classes will end by February 23.
All student can collect admit card form the relevant schools. The admit card will be available till the opening day of the examinations", Meghna Chaudhary said.
In 2018, over 5 lakh Students appeared for the High School Exam. While 48,000 students came for the Commerce Commerce examination and 2.25 lakh students appeared for the science Paper. The result was announced on May 24, and 87.78 percent students cleared examination properly and successfully.