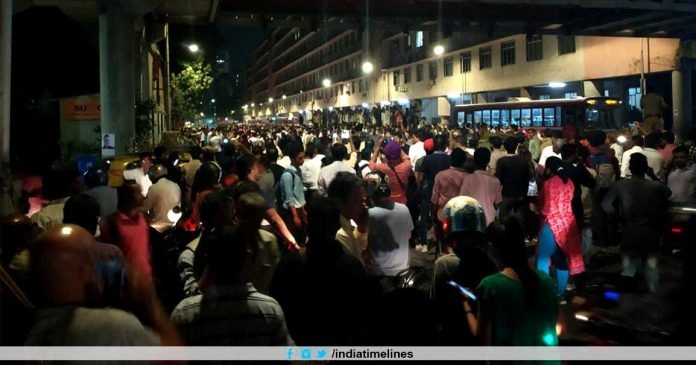 Mumbai Bridge Collapse:  At least six people were killed and 34 injured when a large portion of a Foot Overbridge Collapsed near Mumbai's Chhatrapati Shivaji Maharaj Terminus (CMST) Railway Station. An eyewitness said that when the bridge Collapsed, there was a red light on the nearby signal, and therefore the number of people who died was not high. Another eyewitness said that overbridge was being used despite the repair this morning.
Mumbai Bridge Collapse, 6 Dead, 34 Injured as Foot Over-bridge Collapses Near CST Railway Station in Mumbai
The Collapse of the bridge on busy Dadabhai Naoroji Road was the third in the city in less than 18 Months. On July 3, 2018, a walkway of Gokhale Bridge collapsed at Andheri railway station in suburban Mumbai, in which two died and five others were injured.
Nine months before that, in 2017, 23 people were killed in a stampede when Elphinstone Bridge collapsed. Officials said that a large part of the bridge was damaged at around 7.30 pm on Thursday evening. Some motorists who were passing under the bridge when they came down were involved in those wounded.
Among the six dead, two female nurses from Gokuldas Tejpal Hospital were also involved, both were going to work in the night shift. They were identified as Apoorva Prabhu (35) and Ranjana Tambe (40). Others were identified as Zahid Shiraj Khan (32), Bhakti Shinde (40), Tapendra Singh (35) and Mohan Kaygunde (55).
A team of senior police officers, fire brigade and national disaster response force was rushed to the accident site. After the collapse, the pedestrian bridge, the railway station was linked to the Azad Maidan Police Station, the Times of India building and a school.
In addition to the public and private ambulance, people present at the scene also helped in rescue work and the injured were seen to be taken to hospitals. A 45-member team of National Disaster Response Force and Mumbai Fire Brigade was also sent. Officials said the rescue operations lasted for more than an hour.
Prime Minister Narendra Modi said that he was seriously hurt by the loss of life in the accident. "My thoughts are with mournful families. Wanted that the wounded should be cured as soon as possible. The Maharashtra government is providing all possible help to the affected people, "he tweeted.
Mumbai Bridge Collapse,  CM Devendra Fadnavis announces-5 lakh people to be killed and 50 thousand injured in bridge collision
Maharashtra's CM Devendra Fadnavis announced the investigation and said that the culprits will be punished. He said that the bridge was audited last year and it was found structurally correct. He announced a compensation of Rs 5 lakh for the relatives of the deceased and Rs 50,000 for the injured.
For more updates news so visit here: www.indiatimelines.com
Maharashtra minister and BJP leader Vinod Tawde said that there were only "minor defects" in the bridge and it was not considered "risky". He said that it will be investigated why the bridge has not been closed despite repairs.
Congress President Rahul Gandhi expressed condolences to the families of those killed in the incident and prayed for immediate health benefits of the injured, even his party demanded that Railway Minister Piyush Goyal be declared a criminal. Party leader Murli Milind Deora also blamed the BJP and the Shiv Sena for the downfall and demanded that the auditors who clean the bridge have booked them for murder.