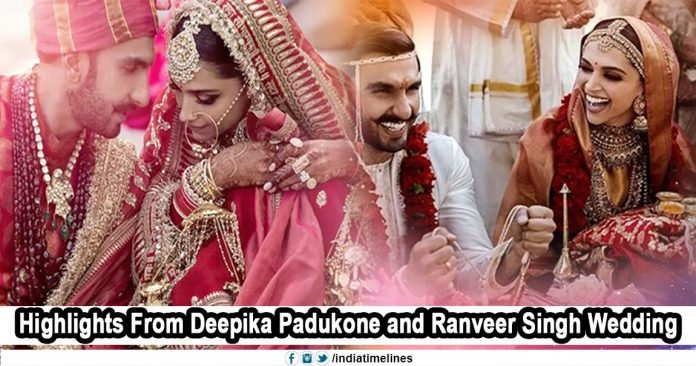 Deepika Padukone Ranveer Singh Wedding Updates:- Finally Bollywood adorable couple married with complete Konkani custom on 14th November i.e. followed by Sindhi wedding. On 14th November, some pictures of the marriage of Konkani custom came out, but the fans were disappointed because their favourite stars were not visible anywhere in those pictures. Eventually, last evening he gave his favours a gift of beautiful pictures of his wedding.
Deepika Padukone Ranveer Singh Wedding Updates
Fans who are eagerly waiting for Deepika Padukone and Ranveer Singh wedding Picture, After the long wait, the official pictures of their wedding is out. Remind you that Deepika and Ranveer married in Konkani and Sindhi style at Lake como villa del balbianello in Italy on 14 and 15 November. During this time some pictures and videos are taken from afar also appeared, but the fans waited for a glimpse of the bride and groom.
After all, the pictures of Deepveer's wedding photos have been out. Deepika Padukone looks beautiful in a red lehenga in the wedding. Ranveer Kapoor is also looking amazing. On November 14th and 15th, both of them married in Italy, and their two photos, which were released last night, are still in the headlines. At present, preparations at Ranveer's house are very special in welcoming bride and groom in Mumbai.
After the wedding in Italy, the Mumbai-based Ranveer Kapoor's bungalow has fully ready for the new bride's welcome to Deepika. Outdoor lights have been beautifully decorated. Ranveer Singh's bungalow is present in Bandra. It looks like this bungalow is fully prepared for the reception of the new bride.
With photographs of Deepika Padukone and Ranvir Singh's wedding, the eyes of the people started to notice. First of all, the attention went to Chunari, which was quite different and beautiful. Along with this, Deepika's ring in the discussion, which is being told around Rs. 2 crores.