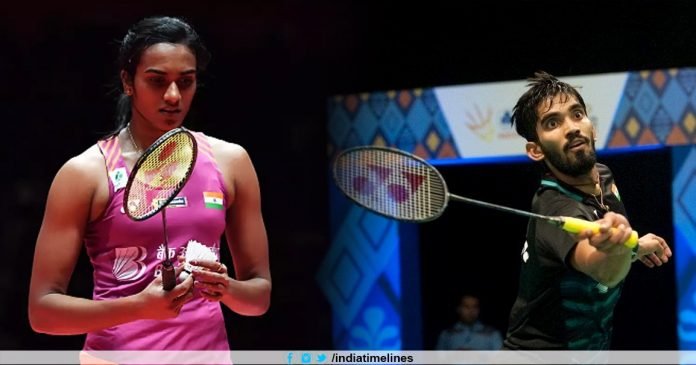 All England Championships: The opening day of all England Badminton Championship was disappointing for the Indians because their star shuttle PV Sindhu was out in the First Round in Birmingham. This was a painful exit for the Indus. Fifth seed surprised by Sung J Hyun 16-21, 22-20, 18-21 In a marathon fight, which lasted for one hour and 20 minutes, the S Korea shattered the expectations of the Indus with a difficult fight. Sindhu was initially in control and was ahead on some occasions in the first game. Koreans suddenly changed gear and they were away from four consecutive points to claim the opener on 21-16.
All England Championships: Sindhu ousted in the first round
Long Hyderabadi returned to the second game but Sung, the world's number 10 player,  was not in the mood to take advantage. Indu saved three match points before securing a second game at his first game point. The success in the second game seemed to pick up the souls of the Indus because they started well in the decisive.
However, Sung caught up soon and came up with an extraordinary performance to move forward. Both the shuttle digs deep for each point; It was a serious fight to see. Below 13-20, all this was seen for Indus. However, the silver medalist of the Rio Olympics staged a remarkable recovery to reduce the gap with the difference of five points. However, Sung changed his sixth match point to seal the fate of Indus.
It was the seventh consecutive victory in Sung's second consecutive second and 15th match against the Indus. Sung will play horn with Hong Kong's Cheung Ngan Yi in the second round on Thursday. All India Men's Singles Conflict, 2017 Singapore Open champion B Sai Praneeth defeated the trainee HS Prannoy of fellow Gopichand Academy 21-19, 21-19. With this 52-minute win, B Sai Praneeth scored a head-on record of 2-2.
All England Championships: Saina, Kidambi win
In the men's singles, India's Kidambi Srikanth beat Brice Leverdez of France 21-13, 21-11 but Sameer Verma faced a defeat against Viktor Axelsen of Denmark 21-16, 18-21, 14-21. In the women's singles, Saina Nehwal of India defeated Scotland's Kirsten Gilmour 21-17, 21-18.
Ashwini Ponnappa and N Sikki Reddy gave a big blow to the seventh-seeded Shiho Tanaka and Koharu Yonemoto of Japan before losing 21-16, 26-28, 16-21.
In the second match, there was a match point of the perfect pair of the Indian pair, but he could not cash it and got under pressure. Another Indian woman doubles pair of Meghna Jakhkapudi and Poorvisha S Rama got a tough fight before losing the Russian pair of Ekaterina Bolotova and Alena Daveltova 21-18, 12-21, 12-21. For the latest information, you can visit www.indiatimelines.com.
The Indian men's doubles pair of Sumeeth Reddy and Manu Attri 19-21, 21-16, 14-21 lost to Ren Xiangyuand OU Xuanyi of China. Pranav  Jerry Chopra and N.Sikki The Indian mixed doubles pair of Sikki Reddy lost 21-23, 17-21 against Chang Tuck Ching and Ng Wing Jung.
In one of the biggest fluctuations in the day, China's former Olympic champion Lin Dan was shocked by the young Japanese Kanta Tsuneyama 19-21, 21-14, 21-.