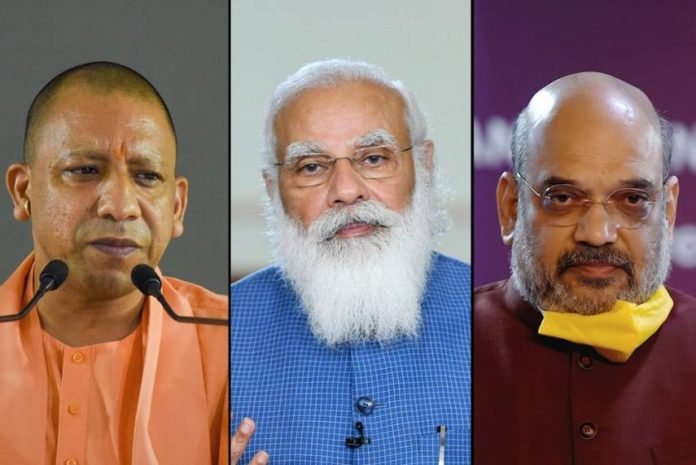 Yogi in Keshav Maurya house: Yogi Adityanath reached Keshav Maurya's house for the first time- Uttar Pradesh CM Yogi Adityanath reached the house of Deputy CM Keshav Prasad Maurya. This is the first time that the CM has visited the Deputy CM's residence. It is being told that the talks between the two leaders lasted for about one and a half hours at Keshav's house at 7 Kalidas Marg. Chief Minister Yogi Adityanath's residence is at 5 Kalidas Marg. The 7 KD bungalow belongs to Keshav Prasad Maurya except one from his residence. CM reaches Keshav Prasad's house for the first time. It is being said that the formality congratulating the marriage of Keshav Maurya's son was also the reason for this meeting.
BJP core committee had lunch
It is being told that the core committee had lunch at Keshav Prasad's house. All the people of BJP core committee including Sangh's Krishna Gopal came here for lunch. That's why Yogi also came here.
Today there will be brainstorming with Yogi-Ministers
BL Santosh will sit with CM Yogi and ministers on Tuesday at BJP headquarters in the evening. UP in-charge Radha Mohan Singh, State President Swatantra Dev Singh and State Organization General Secretary Sunil Bansal will also be present with him. During this, the details of the work done in their departments will be taken from the ministers.
Difference between Keshav and Yogi?
Even though the party leadership is saying that there was no discord over UP, there was media-generated confusion, that too is over now but there is still Yogi vs Keshav Maurya going on there. Keshav Maurya was the frontrunner in the race for the post of Chief Minister in 2017, the party had also indicated this by making him the state president on the occasion of elections.
After the election results, he had to become a deputy on the last occasion. Keshav Maurya wants the election of UP in 2022 on the 'Assam Model' that no one should be declared the face of CM in the election, the CM's decision should be taken in the meeting of the Legislature Party.
Yogi CM in 2022? Keshav gave this answer
Keshav did not take Yogi's name in response to the question who will be the CM face of BJP in the 2022 assembly elections in Uttar Pradesh. He said that the central leadership will take its decision. He has demanded to hold elections in UP on the lines of Assam model.