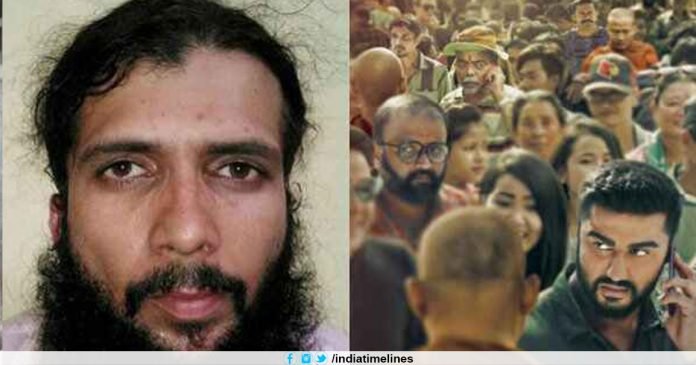 Yasin Bhatkal is the subject of Arjun Kapoor's Movie: Recently, during the trailer launch of Arjun Kapoor 's forthcoming film ' India's Most Wanted', the film team admitted that this film is about the story of five real officers of Bihar who had captured India's most wanted terrorist. The film has been described as Osama of India, in which about 52 bomb blasts were planned between the year 2007 and year 2013.
Since the story of this movie has been revealed, people have been thinking of the story of Raj Kumar Gupta's story. However, the director of the film has been silent on this issue. As per the latest report, this film is based on the story of the arrest of Indian Mujahideen terrorist Yasin Bhatkal.
Yasin Bhatkal is the subject of Arjun Kapoor's Movie
In the year 2013, the government had declared a reward of Rs 3.5 crore on the head of Yasin. This mission started when some IB officials found out that Yasin was hiding in Nepal in the face of a doctor. After this, the officials of Patna IB followed him. It is being told that Arjun has played the role of Prabhat Kumar, the real-life officer in the film. Yasin Bhatkal is currently serving life imprisonment in Delhi's Tihar Jail.
The film is totally based on Yasin Bhatkal, a conspirator who performed various terror activities across India. There was a time when he was on top in Delhi Police's most wanted terrorists' List, In August 2013, he was arrested from the India- Nepal border after a joint operation performed by Bihar Police and Intelligence Agencies. For more details, you can visit www.indiatimelines.com.
The story of Arjun Kapoor's 'India's Most Wanted' is of five people, who give up everything to catch Osama in India. The film's story is inspired by the true story. The film has the story of catching India's most dangerous terrorist, and also without harm. Arjun Kapoor is playing the role of Intelligence Officer Prabhat on screen for the first time. 'India's Most Wanted' is directed by Rajkumar Gupta. Arjun Kapoor's 'India's Most Wanted' will be released on May 24