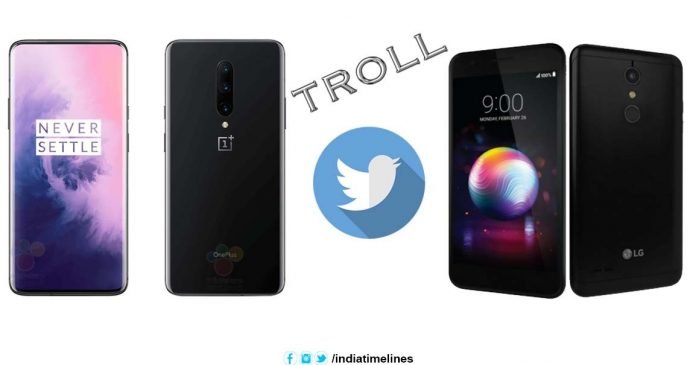 Xiaomi trolls OnePlus 7 Pro on twitter:- Chinese smartphone maker Xiaomi is going to launch its Redmi Series flagship smartphone Redmi K20 and K20 Pro soon in India. The company confirmed this flagship device yesterday itself. Redmi India posted its Twitter handle with Troll OnePlus. This post was written, Cometh the flagship, comes the flagship Killer 2.0. Xiaomi posted a picture in this post too. In this picture, OnePlus wrote Congratulations in Bold that we have heard about your new flagship. After this, Xiaomi said about the launch of its flagship smartphone Redmi K20 series sooner.
Xiaomi trolls OnePlus 7 Pro on twitter, decide to launch killer flagship Redmi k30 series
Redmi K20 and K20 Pro
Speaking of Xiaomi's new flagship smartphone series Redmi K20 and K20 Pro, it also offers a pop-up selfie camera, a 48-megapixel primary rear camera and Qualcomm Snapdragon 855 mobile platform processors like OnePlus 7 and OnePlus 7 Pro. is. The features of Xiaomi's flagship series were leaking too long ago. Earlier, the talk of launching the series under the name of Redmi X was going on. But later Xiaomi has confirmed to launch this series as Redmi K20.
Talking about other features of this series, a 6.3-inch AMOLED display can be given. This will probably be Xiaomi's first smartphone series in which AMOLED displays will be given. Apart from this, Fast Charging support can be provided in the same way as OnePlus 7 and OnePlus 7 Pro. The K20 Pro also has a strong battery of 4,000 mAh. As Xiaomi posted on Twitter, it seems that a new flagship war may start between these two Chinese smartphone companies. For the latest news and more updates, you can visit www.indiatimelines.com.
After a lot of waits, OnePlus finally launched OnePlus 7 and 7 Pro smartphones of its OnePlus 7 series in India. The company has launched this smartphone in a big event in Bangalore today. Along with this smartphone, the company has also launched OnePlus Bullets Wireless 2 headphones. Its price was kept at Rs 5,990