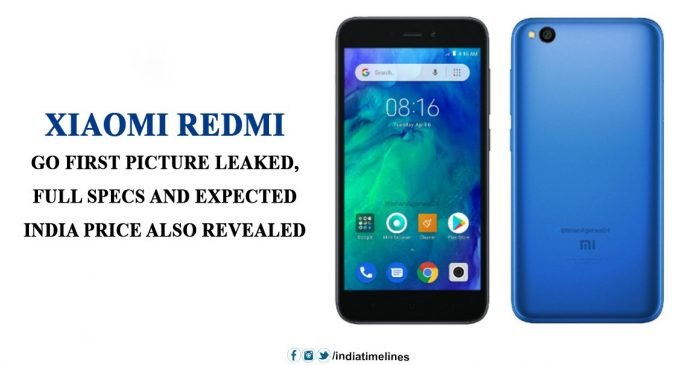 Xiaomi Redmi Go first picture leaked: Xiaomi will soon launch Redmi Note 7 with 48MP camera in India. It has been officially announced by the company on Thursday. Along with Redmi Note 7, it seems that Xiaomi is also preparing to bring its first Android Go phone in India too soon. We've been listening to Xiaomi's Android Go or Redmi Go phone for a long time. But now, some of the official information about Radmi Go has come out close online.
Xiaomi Redmi Go first picture leaked: Check Specification and Price in India
On Thursday, full specs sheet, official photographs and hopes that India's price of Redmi Go would be revealed. Android Go phones always capture entry-level segments and Xiaomi Redmi Go will not have exceptions. If rumors are believed, then it can be worth around Rs 5,000 in India. Let's take a look before learning about the price and specs of Radmi Go.
Xiaomi Redmi Go has been leaked to the first pictures. So far, we had heard about the interiors that Xiaomi could pack phones, but now the leaked render has detected the phone's outer design. Interestingly, the render looks quite close to the official pictures, which indicate that it can actually be what Redmi Go looks like.
Xiaomi Redmi Go first picture leaked: Redmi Go full specifications
The Redmi Go device will have a 5.0 inch LCD display with 16: 9 aspect ratios and 1280 x 720p (HD) resolution. It is believed that it is operated by Qualcomm Snapdragon 425 SoC, which is great for Android Go devices. RAM and storage are displayed as 1GB + 8GB, respectively, and will have options of up to 128GB microSD expansion.
The Redmi Go smartphone will have an 8MP shooter with f / 2.0 aperture and a 5MP selfie with f / 2.2 aperture. On the software side of things, this handset will reportedly run the Android 8.1 Oreo (Go Edition) and will be loaded with 3,000mAh battery. In terms of connectivity, the smartphone will provide Dual SIM and Dual 4G capability, dedicated MicroSD card slot, Wi-Fi 802.11 b /g /n, Bluetooth 4.1, micro USB and USB 2.0.
Redmi GO launch and India Price: Xiaomi Redmi Go first picture leaked
The price of Redmi Go must be between 3,000 to 3500 rupees, In India. We say that considering the previous track record of Android Go phones from other smartphone makers, it has not been very good, and one of the major reasons for this is their high price… Basically, if Xiaomi can get India's price of Redmi Go, then this phone could stir up the country's entry-level smartphone segment.
India's launch of Radmi Go can be as soon as you can imagine. A report leaked at the beginning of this week suggested that Xiaomi India Q1 will launch three phones by the end of 2019 – Redmi Note 7, Redmi Note 7 Pro and Redmi Go – which is till March. This means that the possibility of launching Redmi Go India can be in almost a month.