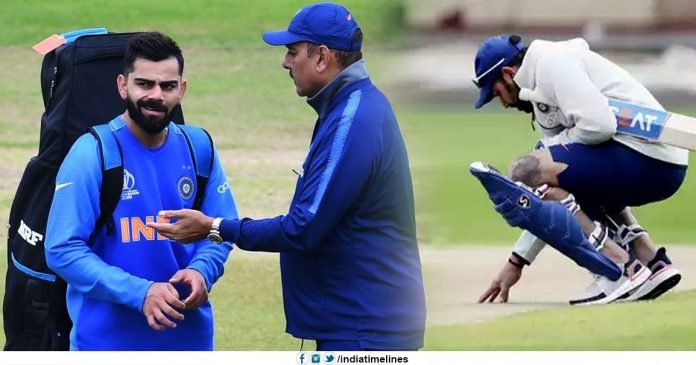 World Cup 2019 India Vs New Zealand- In the World Cup, the Indian team has to face New Zealand today (Thursday), but it is not possible to play the whole over in this match due to rain due to the last 3-4 days. Prior to this World Cup league match, the sun has gone on a long holiday and the weather department has expressed slight hopelessness. If the weather is not good and some time is wasted, then a match of 20-20 overs can be made instead of 50 overs.
World Cup 2019 India Vs New Zealand Live Score
It is believed that due to lack of sunlight the time for drying of the ground will be less, which is not safe even in terms of sports. If the field conditions are not favourable for the game, the match officials will not jeopardize the security of the players. There is a high probability that the match can be cancelled without any ball thrown.
Challenge also for players
Due to the weather, the players remain in the midst of a different challenge. They have to prepare themselves for the fight, and without training, it is not easy too. The format of the current edition of the World Cup is also such that taking any match lightly can put further operations in difficulty, especially during the first half. If the players are preparing themselves for this, that opportunity will not let them go.
Bangar said – Do not think much
World Cup 2019 India Vs New Zealand- Indian team's batting coach Sanjay Bangar has said that it is natural to have an impact on one or two matches due to the weather in England and the players should not think too much about it. On Tuesday, the practice session of the Indian team was also cancelled due to rain in Trent Bridge. Although the team remained on the field for nearly 90 minutes, when the booty did not happen, as soon as the player rushed towards the pitch, the rain started.
The practice of Rahul and Kedar
Due to the excessive wetting of the main net rains, the players of the Indian team practised on both sides with Dinesh Karthik, Vijay Shankar, Lokesh Rahul and Kedar Jadhav Throwdown practising. Coach Ravi Shastri was keeping an eye on the nets, later he also came with captain Virat Kohli. Meanwhile, both of them talked a long time in which Shastri was speaking for a long time and Virat was listening to him with all his attention. For the latest updates, you can visit www.indiatimelines.com.