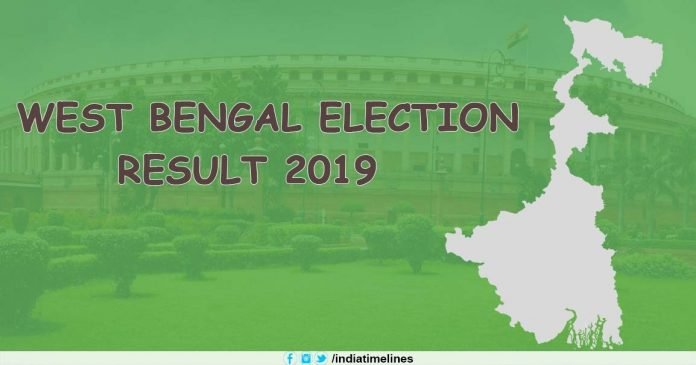 West Bengal Election Result 2019- Voting in West Bengal's 42 Lok Sabha constituencies has started in seven phases. According to media reports, the state's ruling Trinamool Congress is moving forward in the initial trends. Here, BJP 17, Congress 03 and TMC 21 are going ahead. BJP candidate from Asansol, Babul Supriyo is proceeding forward. In this case, everyone's eyes are on whether BJP will be able to dent Trinamool supremo Mamta Banerjee's stronghold?
During the voting of the Lok Sabha elections in 2019, the maximum violence was revealed. Here, there was a constant confrontation between the  BJP and the ruling TMC of the state. The news of the continuous attack in the convoy of BJP candidates came out. The majority of the exit polls on Sunday have seen a significant increase in the Bharatiya Janata Party. In the 2014 elections, the BJP, which has won just two seats, has been predicted from 19 to 21 seats in the exit poll.
West Bengal Election Result 2019 Live Updates
The rapidly emerging Bharatiya Janata Party in West Bengal is looking for new prospects in the state, while Mamata Banerjee faces the challenge to save her state. The way in which TMC and BJP have seen a confrontation during the Lok Sabha elections in the state, it is believed to be proof. In this, about 50 political activists were killed in Panchayat elections.
The moment the eagerly awaiting the people of West Bengal, country and abroad for the last three months, it will be fulfilled today. In the 42 seats of Bengal, whose head wins the victory, it is 466 candidates, along with around nine crore people in Bengal are desperate. The decisive decision of Awam will come out today. Of the 466 candidates contesting in the Lok Sabha elections, more than 5.72 crore voters have exercised their franchise to choose 42 of the candidates. There are many such candidates, who are film, art and millionaires. There are also some who have been MPs in the last two to three times. These include Trinamool, BJP and Congress candidates are the highest. For the latest updates, you can visit www.indiatimelines.com.
The final phase of the Lok Sabha elections is expected to be the victory of Narendra Modi in the exit poll after the voting. However, except for the involvement of the BJP and the NDA, all the parties including the Congress, claiming their own victory once again on the eve of counting of votes, are saying that there is no fuller chance for anyone in the center.