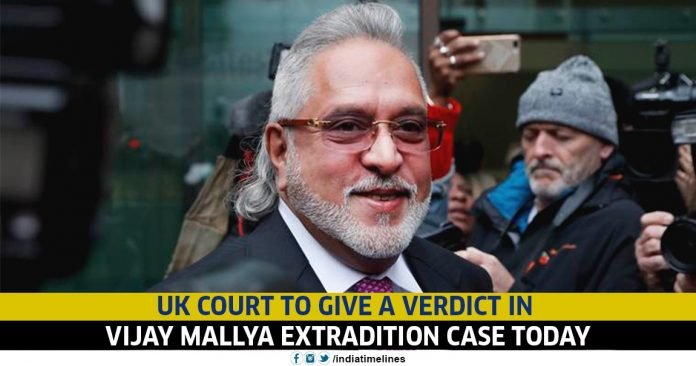 Vijay Mallya's Extradition Case, UK Court May Decide Today:- Vijay Mallya is on bail after his arrest on extradition warrants in April last year. "If the judge is satisfied that all procedural requirements are met and no legal var applies for extradition, then the matter will have to be sent to the Secretary of state for the decision to give an extradition order, "PTI, legal expert, UK and citing Pavani Reddy, Managing partner of Zaivallla & Company, Said.
The judge decision about sending the case of Mallya to UK Home secretary Sajid Javid can be appealed in the UK High Court. The extradited person is an appeal to the High court within 14 days of the date of the magistrate's decision.
Vijay Mallya's Extradition Case: Latest Updates
Agusta Westland VVIP Helicopter Deal intermediaries succeeded in bringing Christian Mitchell to India Will the Modi government succeed in bringing Vijay Mallya to India? The question has become so important because the clock of decision has come closer in the extradition case of liquor baron Vijay Mallya, who ran a loan of Rs 9,000 crore from public sector banks.
A team of officials headed by the CBI's Joint Director S Sai Manohar has left for London to take part in the crucial hearing on Monday. Sources have given this information. Indian investigating agencies are trying to extradite Mallya to bring home country.
Vijay Mallya's Extradition, Some points in this Big story
If the decision is against Vijay Mallya, the judge can allow him to appeal in the High Court. If the decision goes against India, the Central Bureau of Investigation and Enforcement Directorate, who are investigating them, will get 14 days to file an appeal in the High Court.
Vijay Mallya tweeted after the arrest on bail, "He did not take one rupee, the borrower was Kingfisher Airlines, due to the real and unhappy business failure, the money was lost. There is no fraud on being organized as a guarantor." An extradition warrant in April last year.
The 62-year-old has also argued against his extradition that there is no proper air and light in Indian jails. India had to submit a video of Barak 12 of Arthur Road Jail, where Judge Emma Arbuthnot requested it.
Last month, a court in the UK asked the Swiss bank UBS to pay 88,000 pounds after the demand to repurchase its London House to pay 20.4 million pound mortgage loans.
Vijay Mallya's defence team told the court that at the beginning of 2016, they had offered to pay around 80 percent of the original loan amount to the banks.
The Hearing started last year
Vijay Mallya will appear in London's Westminster court on Monday. Mallya has been on bail since the extradition warrant since April last year. The matter of extradition against Mallya was started on December 4 last year in the magistrates' court.