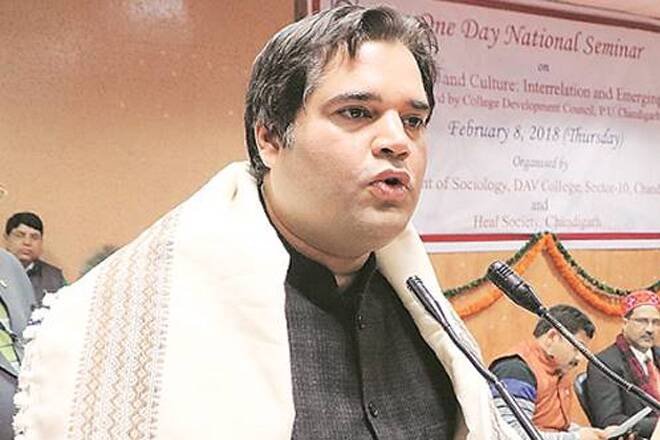 Varun Gandhi news: From shining star to eclipse, minister in the central government- There may be a major reshuffle in the Union Cabinet soon. In this, many young faces along with old experienced leaders are expected to get a place. These embody Jyotiraditya Scindia, Dinesh Trivedi, Bhupendra Yadav, Ashwini Vaishnav, Varun Gandhi, Jamyang Tsering Namgyal. Varun Gandhi is a BJP MP from Pilibhit, Uttar Pradesh. He comes from the Nehru-Gandhi family. He is known for his aggressive attitude. His image has been as a staunch Hinduist leader. The next UP election could also be a reason behind his selection.
Varun Gandhi is the leader of the Bharatiya Janata Party and the son of Sanjay Gandhi, the younger son of Indira Gandhi. Varun Gandhi is a member of the Lok Sabha from the Pilibhit seat of Uttar Pradesh. He was born on 13 March 1980.
Varun's introduction
Varun Gandhi's father Sanjay Gandhi died in 1980 when Varun Gandhi was only 3 months old. When he was four years old, Indira Gandhi was assassinated. Varun Gandhi completed his early education at Rishi Valley and British School in Delhi. Varun Gandhi has done Honors in Economics from the University of London.
Varun first appeared in politics in 1999
Varun Gandhi first appeared in 1999 during the election campaign for the Pilibhit Lok Sabha seat of Uttar Pradesh. Maneka Gandhi was already a part of NDA but officially Maneka Gandhi and Varun Gandhi joined BJP in 2004.
In the 2009 Lok Sabha elections, BJP gave ticket to Varun Gandhi from Pilibhit in place of Maneka Gandhi, in which she won with an overwhelming majority. His opponents Congress and Bahujan Samaj Party candidates had their deposits forfeited. In 2013, Rajnath Singh appointed Varun Gandhi as the National General Secretary of BJP.
Big responsibility given in 2013, then the graph fell
In 2013, he was made the youngest general secretary in the party's history and in-charge of West Bengal. But after the 2014 general elections, not only were all the posts and responsibilities snatched from them one by one, but on many issues like salary of MPs and return of Rohingyas, instructions were sent from the Prime Minister's Office that they should trouble the party with their rhetoric. Do not increase
image of fanatic hindu leader
Varun Gandhi had come into the most controversy when he said in a meeting in Pilibhit, 'If anyone extends a hand to Hindus or thinks that Hindus are leaderless, then I swear by the Gita that I will give that hand I will cut it.' After this statement, Varun and BJP were scolded.
Controversial statement of aggressive Varun
Varun Gandhi is said to be an aggressive leader. Although he has denied in the past that he is not aggressive. Varun is called aggressive because of his speech. One after the other, such controversial speeches of Varun came to the fore. After this the party had to sideline him.
Questions were raised about the crowd in Modi's meeting
Before the Lok Sabha elections, in Sultanpur's Lambhua, Varun Gandhi had said that self-help groups in Rahul's Amethi have done a good job. Whereas BJP was accusing Rahul of not being able to do anything in Amethi at that time. Varun had also raised questions about the crowd in Narendra Modi's meeting before the Lok Sabha elections. When a BJP spokesperson told the crowd in lakhs, Varun Gandhi had said that only a few thousand people can come to the ground.
In February 2015, Varun Gandhi said in a program in Kanpur that the BJP gives lesser opportunities to the youth than other parties. This statement was considered against Modi's youth policy. After not getting attention in UP, he vented his anger in Indore in February 2017. In this program, Varun Gandhi raised the issue of Rohit Vemula case and said that he started crying after reading Vemula's suicide note. On the issue of farmer suicides, he said that discrimination is being done in the recovery of loans in the country. The rich are given concessions, but the poor have to die.