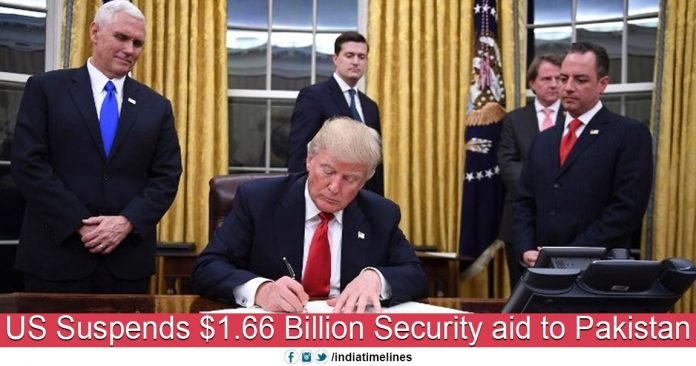 US suspends $1.66 Billion Security aid to Pakistan– Washington: The US has banned the Security aid of US $ 1.66 billion given to Pakistan. Earlier on Monday, US President Donald Trump had also said that he would stop the help given to Pak. In response to a question, US Defence Ministry spokesman Colonel Rob Manning said, "Security help of 1.66 billion US dollars given to Pakistan has been banned."
US suspends $1.66 Billion Security aid to Pakistan
In the Obama administration, the US Department of Defence's Deputy Assistant Secretariat David Sidney, who sees the work of Afghanistan, Pakistan and Central Asia, on behalf of the US Department of State, described America as a frustration to curb aid to Pakistan.
Sydney told PTI, "Although Pakistan has not taken any serious steps in this regard yet. Pak has not taken any step to curb terror groups in their neighbouring countries. '
Earlier, US President Donald Trump, reiterating his point once again on Monday, said that Pakistan made billions of dollars from the US but did not tell us that Osama bin Laden was living there.
In an interview, Trump had accused Pak of not giving America anything in exchange for military help. "We stop helping Pakistan by not paying billions of dollars to Pakistan and the reason behind it is that they took money from us but didn't support us. Bin Laden is the main example. Afghanistan is also one of the countries. They are among the many countries that did not give anything in return from the US, on Monday Trump tweeted.
They said, 'Surely we should have caught Osama long enough. I raised this issue in my book just before the attack on the World Trade Center. President Clinton missed his target We gave billions of dollars to Pakistan and they never told us that Osama is staying there. Fools! '
Significantly, the US and Pakistan relations have been tarnished since military help was stopped. In August last year announcing its policy on Afghanistan and South Asia, Trump had described Pakistan as a safe haven for terrorists who killed Americans in Afghanistan. They warned Pakistan that helping the terrorists would have to lose a lot. In September, the Trump Administration had barred the $ 300 million military help from saying that Pakistan had done nothing against terrorist organizations.