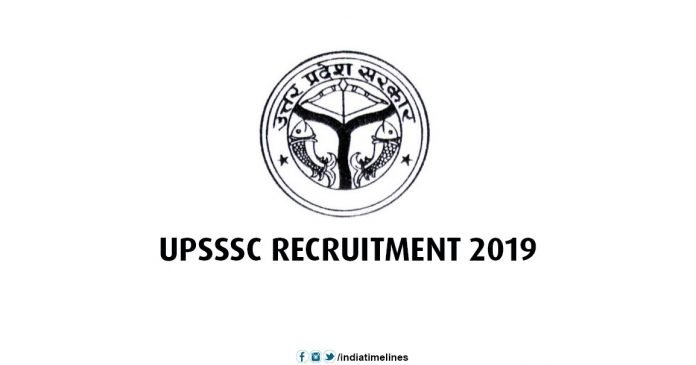 UPSSSC Recruitment 2019- Uttar Pradesh Subordinate Services Selection Commission has issued applications for recruitment of 1185 posts of Junior Assistant (UPSSSC Recruitment 2019 – Junior Assistant 1186 posts) in 21 government departments. For this, the application process has begun from Wednesday and applications can be made by July 20. Any modification in the application will be done till July 27. For online application, the full information is given on the website of the website upsssc.gov.in.
UPSSSC Recruitment 2019, Apply Online
In the order issued by the commission's secretary Ashutosh Mohan Agnihotri, it has been said that the age limit for recruitment should be as minimum as 18 and maximum 40 years. Educational qualification for this should be intermediate or it's equivalent. Along with that, there should be 25 words in Hindi typing and 30 words per minute in English. Along with this, there should also be a Triple C computer certificate. For the latest updates, you can visit www.indiatimelines.com.
For unreserved (general) and other backward classes, Rs 185 will be charged for Scheduled Caste and Scheduled Tribe, Rs 95 and Rs 25 for the tribals. There will also be a reservation system for economically weaker sections released by the state government.
UPSSSC Recruitment 2019 Post Details
Transport Commissioner, Divisional Branch 187, Transport Commissioner Headquarters 4, Survey Commissioner Wakf 44, Director Minority Welfare 60, Director Printing & Writing Priagraj 66, Director of Fisheries Directorate 10, Deputy Director Fisheries Assistant Director Fishery Office 29, Directive Director of Financial Statistics, 1 post. is. Similarly, applications for 119 posts in Office Head Engineer Public Works Department Lucknow 40, Office of the Chief Engineer Public Works Department, Administration B have been sought. In the office of Excise Commissioner, 14, Director, Backward Classes Welfare 72, Director, Divyajanjan Empowerment, Lucknow 33, Law Science Laboratory, Metropolitan Lucknow 30, Vasikhiya Vasikha Office 2, Director of Power Safety, 26 posts. Local fund audit in Prayagraj, 125, Civil Defense Directorate 17, cooperative societies, Panchayats Lucknow 18, State Election Commission, 134 posts in Lucknow. Directorate General of Tourism 17, Directorate of Social Welfare 14, Directorate of Social Welfare 121 Commissioner and Director of Handloom and Textile 3 posts.