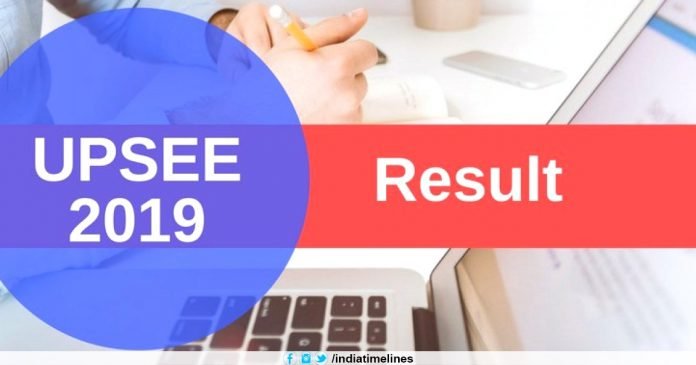 UPSEE 2019 Result Declared, Uttar Pradesh State Entrance Examination (UPSEE) conducted by Dr APJ Abdul Kalam Technical University based in Lucknow is released on June 3, 2019, at 5.00 pm. Candidates who were included in the examination on April 21, 2019, can check the results on the official website https://upsee.nic.in.
UPSEE 2019 Result Declared, Check Here
Based on the performance of candidates in UPSEE-2019, a separate merit list will be prepared for each course. After the announcement of the result, there will be information about the position of merit on the official website, the total number of exams and marks found in different subjects.
The merit cut-off percentages of successful candidates of UPSEE-2019 are 25% (20% for SC / ST). Successful candidates in UPSEE-2019 are called for counselling according to merit. Website http://www.upsee.nic.in, https://aktu.ac.in or http://www.upsee.nic.in about the counselling process, counselling schedule and other relevant information related to counselling. Will be notified on.
UPSEE 2019 Exam BTECH / BArch / B Design / B Farm / BHMCT / BFAD / BFA / B Voc./ MBA / ABA (Integrated) / MCA / MC (Integrated) / M Tech (Two Degree) M Tech * / M arch * / M Farm * / m design * and B.Tech / B form / MCA (lateral entry) is held for admission in the first year of the second year.
Students can check their Answer Sheets, UPSEE 2019 Result Declared
All colleges affiliated to AKTU Lucknow will have around 20 per cent seats for UP All India Candidates appearing in 2019. The result of the UPCEE-2019, issued by Dr APJ Abdul Kalam Technical University, has been finalized. For the latest updates, you can visit www.indiatimelines.com.
However, the candidates have to pay five thousand rupees within seven days of declaration of the result and get their answer booklets re-examined. According to the UPSEE-2019 merit, the candidates will be allocated strictly through counselling. Once the seat has been allotted to the candidate, there will be no change in the institute/branch.
15 percent quota management or NRI candidates can be filled up
15% of total approved seats available in private institutions with the permission of the UP Government can be filled by quota management / NRI candidates. Those seats will be filled in accordance with the procedure set forth in the government. The remaining seats in different courses offered in all institutions affiliated to AKTU Lucknow will be filled through the counselling of UPSEE2019.