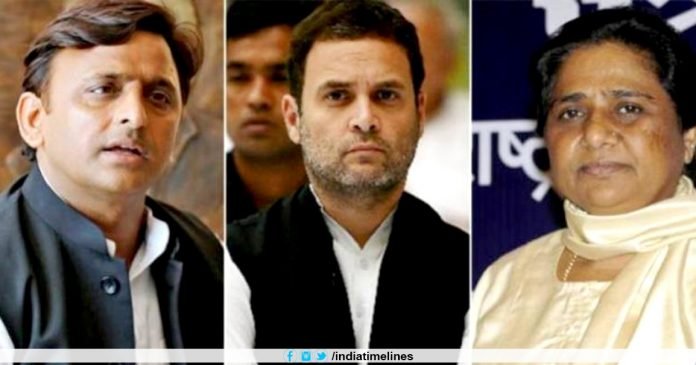 UP seat sharing: In Uttar Pradesh, for the 2019 Lok Sabha elections, the coalition announced its plan to share its seat on Thursday. In Samajwadi Party (SP) four seats in the Braj region of UP, Bahujan Samaj Party (BSP) three and Rashtriya Janata Dal will contest from one seat. This time, senior leaders of the SP-BSP combine have seen that the strong candidates in their area will fight against him. A senior SP leader told that senior leaders of the SP and the BSP were forming an electoral strategy till now, but now RLD is considered a partner of the alliance.
Chacha (Shivpal Yadav) and Bhatija (Akshay Yadav) could fight in Firozabad seat. At present, Ram Gopal Yadav's son, Akshay Yadav, is an MP from this seat. Now, it is a big question that what will be the strategy of the Bharatiya Janata Party to fight this coalition. According to sources, the BJP can pick up a film actor for its Braj seat.
UP seat sharing: Allocation for SP, BSP, and RLD in Braj
Now, it will be decided later that the BJP will choose its current MP or present new faces for the 2019 elections. RLD candidate won Hathras seat (Reserve) in the 2009 election. In 2014, BSP was the runner-up for the seat.
However this time Hathras seat has been allotted to SP. Overall, the alliance seems to be doing a good job in Braj. The main reason for this is a large number of Yadavs, Scheduled Castes, and Jat voters. If SP, BSP, and RLD count their votes for the last election, most seats seem to be making trouble for the BJP.
However, we can see that there are many challenges in the way of the main alliance. In the 2017 assembly elections, it was seen that the BJP performed well between the traditional voters of SP, BSP, and RLD. All the BJP candidates of nine MLA seats had won. For the latest updates, you can visit www.indiatimelines.com.
UP seat sharing- Firozabad and Mainpuri seats, which are the SP's stronghold, have also won BJP candidates. This time coalition is stronger than last time. Polling of Lodhi society at Eta and Aligarh is also important. However, Muslim voters cannot be underestimated.
Social activist Ms. Lakshmi told that BJP could choose PM again as a PM by using the blessings given by Mulayam Singh Yadav for PM Modi.
Mulayam Singh has a lot of influence on Yadav and Muslim voters in Braj. According to the reports, UP Congress chief Raj Babbar may be the candidate of Fatehpur Sikri. He is an MP from Agra and Firozabad. Therefore, it can be said that the BJP may have to face a triangular fight in Braj.