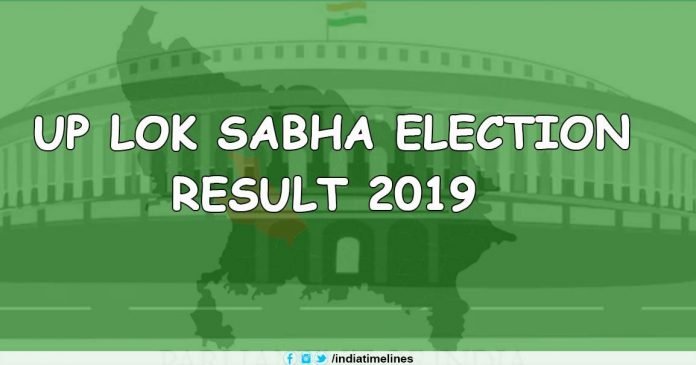 UP Lok Sabha Election Result 2019- Today is the decisive day of the Lok Sabha Election Result 2019 Live Updates. Elections are being counted today in seven phases of Lok Sabha Elections 2019 and by the evening, the picture will be clear that what is the role of UP in forming a government at the Center. Uttar Pradesh has a major political role in the center of government formation in the center. The reason is that there are 80 seats in the Lok Sabha in UP and on the strength of the victory of this state, there are many governments at the Center.
UP Lok Sabha Election Result 2019
This time also, the political parties, as well as the eyes of the whole country, are focused on how many seats the party gets in UP and how much time this UP can play in the central government. There was a triangular contest in this Lok Sabha election in UP. It was found in the Lok Sabha elections in the state of UP which was seen many decades ago. That is, the BSP and Akhilesh Yadav's SP came together in the electoral fray for the purpose of fighting the BJP and winning more and more seats.
Congress was seen alone in this election. In the 80 constituencies of UP, in all the seven phases of the elections, the results of which will come today (lok Sabha chunav parinam). There are many such VVIP seats in UP, such as Varanasi, Amethi, Rae Bareli, Gorakhpur, Mainpuri, Kannauj, Lucknow etc. where the results of the entire country are looked upon. In UP, the fate of several Union Ministers, including Prime Minister Narendra Modi, is at stake. Along with Congress president Rahul Gandhi, UPA Chairperson Sonia Gandhi, SP chief Akhilesh Yadav, Dimple Yadav, Mulayam Singh, many legions of destiny have to be decided today. For the latest updates, you can visit www.indiatimelines.com.
After the second round count, BJP in UP ahead of 12 seats, Dimple Yadav in Kannauj ahead of beginning
In 13 seats in Kanpur and Bundelkhand, the vote share of the Bharatiya Janata Party is increasing due to the continuous increase. At the same time, Shivpal Singh Yadav's party Prasena got less votes than the votes recorded in the Mishra on the Mishit seat.