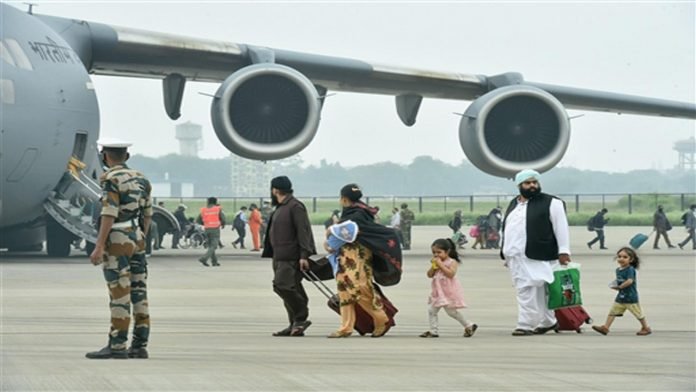 Ukrainian plane hijacked from Afghanistan's Kabul airport- Iran claims 'fake' claim- Ukraine's deputy foreign minister claimed that one of his planes had been hijacked in Afghanistan amid the Taliban crisis. This plane had come to evacuate the citizens of Ukraine from Kabul. He said the plane has been taken to Iran. It is not yet known who hijacked this plane. This Ukrainian plane has been hijacked at a time when countries around the world are united day and night to evacuate people from Afghanistan.
Meanwhile, Iran has claimed that this plane had landed with them to get oil and later left for Kiev. He has denied the kidnapping. It is being told that this plane was sent to Kabul last week. Now unknown people have taken this plane to Iran. It is being told that the kidnappers were armed. Earlier also Ukraine had tried to evacuate its citizens but they could not reach the airport. Now after the hijacking of the plane, the market of speculation has heated up.
100 Ukrainian citizens stranded in Kabul
The Ukrainian minister did not say what happened to his plane and whether his country would bring the plane back or how Ukrainians would return from Kabul. He said diplomatic efforts are being made. Earlier on Sunday, 83 people, including 31 Ukrainian nationals, were brought by a military transport plane. The President's Office had said that 12 people from the Ukrainian military had also returned. He told that 100 Ukrainian citizens are trapped in Kabul.
Earlier, the Taliban threatened that the US would face dire consequences if the withdrawal of troops was not completed by August 31. The US President had earlier set a date of 11 September for the withdrawal of troops, which was later changed to 31 August. After this threat, other countries have also intensified their campaign.
Time will not be given after August 31
Taliban spokesman Suhail Shaheen said that the US President has made it clear that the withdrawal of troops will be completed by August 31. He should stick to his word. The Taliban has threatened that it will not give a single day's time after August 31. If he was asked for more time for the withdrawal of troops, the answer would be 'no'. At the same time, these countries may also have to face its serious consequences.