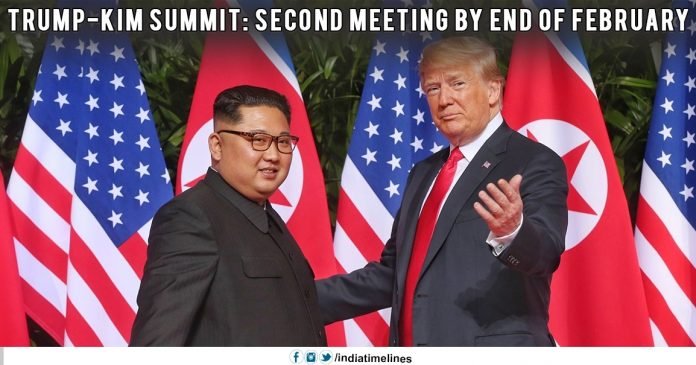 Trump-Kim summit – Second meeting by end of February:- North Korean leader Kim Jong-un and US President Donald Trump can meet again at a summit soon. The preparations have begun with this visit to her. Kim Yong Chol, who is considered to be Kim's right hand, arrived in America on Thursday. It is believed that North Korea's top Gen Kim Yong Chol can meet President Trump in Washington.
Trump-Kim summit – Second meeting by end of February
Let America and North Korea prepare for a news conference to end the nuclear disarmament and the long-standing hostilities. In such a situation, this American tour is being considered as part of the preparation process for the second summit between Trump and Kim. Two months ago, negotiations between the two countries had been cancelled.
Actually, North Korea's negotiator Yong had postponed talks with US Secretary of State Mike Pompeo in New York. This is the reason that the administration is alert now and the information of the current tour has not come out before time. An American source said, "Pompeo will welcome Kim on food in Washington on Friday and after that, both the White House will be leaving."
American President Donald Trump Many times in a year, Kim Jong has talked about the next meeting with them. Trump has repeatedly said this after the historic summit in Singapore last June. With these statements from the Trump rejoices about his diplomacy, it appears that he can soon share information about meeting with North Korean leader Kim. However, when this dialogue will be between the two leaders, it is not known but it is being speculated that in February 2019, both leaders can meet in Vietnam or Thailand.
In a recent interview, Pampío hoped to reach an agreement with North Korea. It was also said that this agreement would prove helpful in making a better and safer US. At the same time, he had indicated that the possibility of this agreement is less likely before the second summit to be held between the two world leaders. Trump-Kim summit – Second meeting by end of February
The market is hot on meeting both the leaders. Although, at the beginning of the year, Kim responded with a tone of reply to the US that he was ready to talk but he had to change his stand. Kim said, "He is ready to do a summit with America in 2019, but this does not mean that he is in any pressure." They said, 'America needs to make changes in the attitude that puts pressure on us. The United States should not take a test of restraint of North Korea by making several types of sanctions and pressures. '