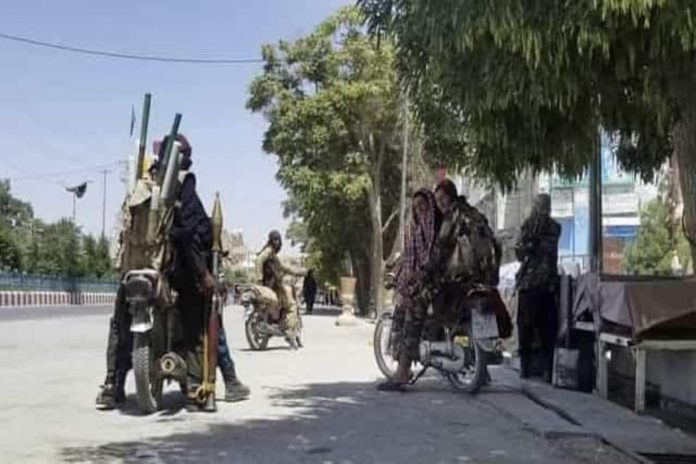 The picture of Ashraf Ghani was uprooted by the Afghan Embassy – President Amarullah Saleh- After Afghan President Ashraf Ghani left the country, Vice President Amarullah Saleh has declared himself the President of the country. The impact of Saleh's announcement is now visible. The Afghan Embassy in Tajikistan has uprooted Ashraf Ghani's portrait and replaced it with Amarullah Saleh's portrait. Not only this, the picture of the commander Ahmed Shah Masood, who is called the lion of Panjshir, has also been installed.
It is believed that the Afghan Embassy in Tajikistan has openly supported Saleh. Tajikistan is a country adjacent to Afghanistan and Saleh is also of Tajik origin. After this announcement, the mercury of the Taliban is believed to rise. Earlier, Amrullah Saleh had declared himself the President of Afghanistan after Ashraf Ghani fled the country. He also targeted US President Joe Biden, saying that arguing with him is useless now.
'It's useless to argue with Joe Biden on Afghanistan'
Saleh also appealed to Afghan citizens like the Northern Alliance to stand up against the Taliban. Amrullah Saleh tweeted that according to the Constitution of Afghanistan, the Vice President becomes Acting President in the absence, escape, resignation or death of the President. I am currently inside my country and have a legitimate caring president. I am reaching out to all the leaders for their support and consensus.
In another tweet, he targeted the US, saying that now it is useless to argue with Joe Biden on Afghanistan. let him go. We have to prove to the Afghans that Afghanistan is not Vietnam and the Taliban are not even remotely like the Vietnamese communists. Unlike the US-NATO, we have not lost our spirits and see great potential ahead. The warnings have expired. Join the resistance.
Pakistanis hate Saleh
Saleh has also been trained by the US intelligence agency CIA. Saleh has created such a network of his spies that helps him to keep an eye on the activities of Taliban and ISI from Afghanistan to Pakistan. It is said that Saleh has good relations with the Indian intelligence agency RAW. Because of this friendship of Saleh, Pakistanis hate him. He is the biggest enemy of the Taliban because of his tough action against the jihadists. The Taliban wanted to capture Saleh but he secretly went to the Panjshir Valley, an impregnable fortress of the rebels.