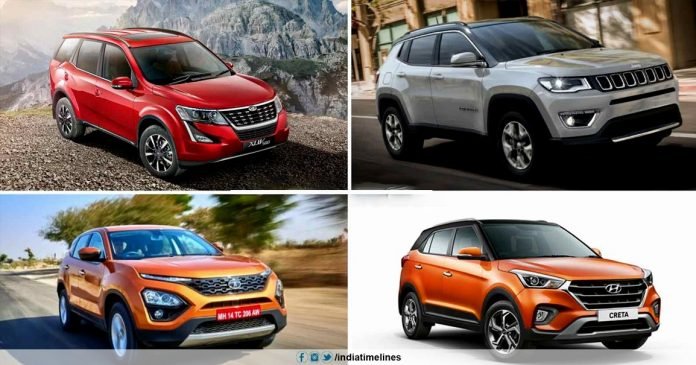 Tata Harrier BEATS Mahindra XUV500 & Jeep Compass:- Tata Motors' new SUV Harrier is very much liked. In the market, this SUV is considered by the collision Mahindra XUV500 and Jeep Compass. Recently, Mahindra launched a new variant of the XUV500, which costs less than the Tata Harrier. Regardless, its Tata Harrier has left behind the Mahindra XUV500 in terms of sales in May. Sales of Jeep Compass is also lower than Harriers.
Last month, in May, Tata Motors sold 1,779Harrier SUVs. This month, Mahindra XUV500's sales figure stood at 1,195 units. At the same time, Jeep Compass's sales remained 977 units in May. Let's tell that the top model jumps to the top of the Tata Harrier. In the May sale, the XUV 500 and Harry Harper, who leave behind Compass, will also be competing with the soon-to-run MG Hector SUV.
Tata Harrier BEATS Mahindra XUV500 & Jeep Compass
Harrier's design is quite attractive. This is Tata's first car, in which the company's IMPACT 2.0 design language has been used. It looks quite premium due to the large headlamp on floating roof, thick chrome window underlining, unique position in Bumper. The LED tail lamps connected through the black strip on the rear side of the harrier make the best look. In the case of overall look, this SUV seems uniquely and irrelevant.
The engine
The Tata Harrier has a 2.0-liter diesel engine taken from Fiat. This engine generates 140 PS power and 350 Nm torque. The engine is equipped with a 6-speed manual gearbox. Harrier does not have a choice of petrol engine and automatic gearbox.
Cost
Harrier's initial X showroom price is 12.69 lakh rupees. Explain that Tata Motors is also going to bring a 7-seater version of this SUV, which is likely to be launched in the name of Bajard. Apart from this, the company is also planning to launch the automatic version of Harrier. For more visit www.indiatimelines.com.