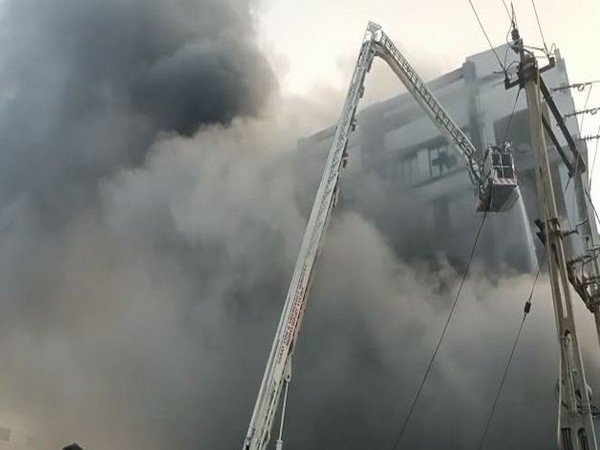 Surat Fire: A huge fire broke out in a packaging company in Surat- 2 died: 125 people rescued- A massive fire broke out at a packaging company in Kadodora, Surat, Gujarat this morning. So far two laborers have died in this incident and many people are said to be injured. While more than 125 laborers have been rescued by a hydraulic lift. Several fire engines are still present at the spot. According to the information, the accident happened when the laborers were working on the fifth floor. According to sources, some people allegedly jumped from the building to save their lives in which two persons were killed.
Police said that over 100 people have been evacuated from the unit located in Kadodora Industrial Area and some workers have also suffered burns in the incident. The rescue operation is still on.
Vadodara Police Inspector Hemant Patel said that the fire broke out in the 'Viva Packaging Company' around 4.30 am. The fire started on the first floor of the unit and quickly spread to other floors as well. Cranes were used to rescue workers trapped inside the building. Officials said the cause of the fire is yet to be ascertained.
Workers started jumping from the fifth floor to save their lives
According to eyewitnesses, when the fire broke out, many workers were working on the fifth floor, seeing the flames rising, the workers were very scared and started jumping from the fifth floor to save their lives. At the same time, top officials of Surat said that along with getting the fire under control, the emphasis is also on relief and rescue work and the injured have been rushed to the hospital, as well as the cause of the incident will also be ascertained.