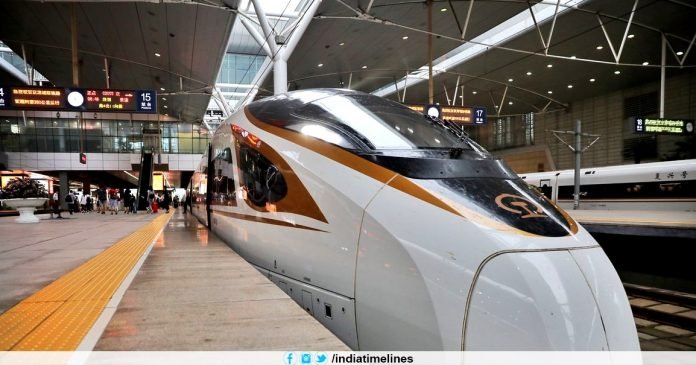 Superfast bullet train that run with the speed of airplane- Soon, people in China will be able to travel in the speed of the airplane train. Running at a speed of 600 kilometres per hour, this train will be maglev train powered by a magnetic system. On Friday, China announced its primary model's preparation. Its commercial production will begin in 2021.
Superfast bullet train that run with the speed of airplane
Speed ​​up to 600 km
Manufacturer locomotive company CRCC Syfang Corp claims about Magnetic Levitation (Maglev) train that it will be the fastest maglev train in the country, running at speeds of 600 kilometres per hour.
Maglev Services to Make Air Travel Option
Chief engineer Ding Senson claims that the new maglev service will be the option to travel to the airplane. Now the maximum speed of the airplane is 900 km. While the maglev train speed is only 350 kilometers.
USP: Most Lightweight and Most Efficiency
– The prototype of the lowest weighted and strong body train is ready in three years.
– Suspension guide, control, high powered traction has been upgraded to this train.
– When the speed is high, the train rises 10 cm above the track.
– Due to magnetic force, train will get extra strength in mountainous areas.
– Compared to conventional bullet train, maglev reduced low noise, vibration, passenger capacity and less maintenance costs.
What is maglev
Maglev or magnetic installation is a transport system, which uses the magnetic levitation power of magnets on a large scale, mainly by controlling and controlling trains without touching the ground.
Maglev train will run in Japan in 2027
Japan will run a Maglev train with a speed of 500 kilometres per hour in 2027. In 2017, it tested the maglev train of 603 km speed.
Fastest bullet train to run at Tokyo Olympics
Japan successfully tested the fastest bullet train with speed of 350 kilometres per hour on Friday. It will serve during the Tokyo Olympics. For the latest updates, you can visit www.indiatimelines.com.