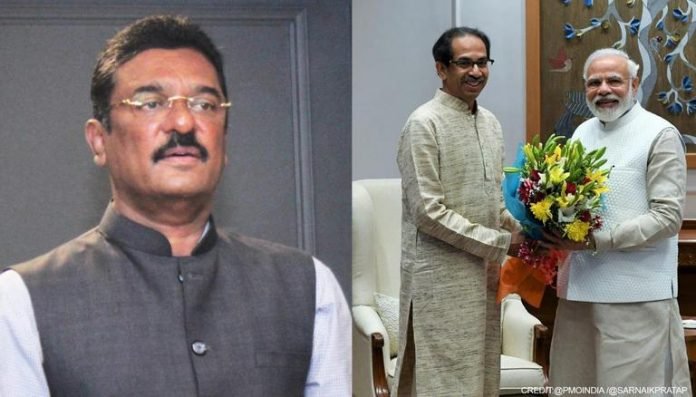 Shiv Sena MLA's letter to Uddhav Thackeray- join hands with BJP- Shiv Sena MLA and spokesperson Pratap Sarnaik have written a letter to party president and Maharashtra Chief Minister Uddhav Thackeray, asking him to join hands with the BJP in view of the upcoming Brihanmumbai Municipal Corporation (BMC) and Thane Municipal (TMC) elections. "The Shiv Sena should join hands with the BJP in the upcoming municipal elections to be held in 10 cities including Mumbai, Thane, Pune and Nagpur," the MLA said in his letter.
In the letter, Sarnaik has underlined that while the Shiv Sena formed the government with the help of the Congress and the NCP, it has helped only the Congress and the NCP. Sarnaik has reportedly alleged that the NCP and Congress are trying to induct Shiv Sena leaders and workers into their party, as a result of which the party is weakening.
Shiv Sena MP Pratap Sarnaik wrote in a letter to the Chief Minister of Maharashtra, 'NCP and Congress want their Chief Minister in the state. Congress wants to contest elections alone and NCP is trying to break leaders from Shiv Sena. It seems that the support of the Center is coming from behind the scenes, there is no central agency behind the NCP leaders.
At the same time, Sanjay Raut, reacting to the letter of Shiv Sena MLA, said, 'An MLA has written a letter to the Chief Minister. What should I say about this? However, if the letter is true, they have raised a very important issue that the MLAs of Maha Vikas Aghadi are being harassed.
Shiv Sena had targeted Congress
On June 17, when the Congress expressed its willingness to contest the next assembly election in Maharashtra on its own, ruling ally Shiv Sena had said the 2024 elections were still far away and asked if there were any plans to hold mid-term polls. In an editorial published in party mouthpiece 'Saamana', he also said that since all major political parties have started talking of contesting alone, Shiv Sena and NCP will have to fight the next election together in the interest of Maharashtra. The Shiv Sena said that the Congress is an important constituent in the Maha Vikas Aghadi (MVA) government, but it is at the third position.
Significantly, Maharashtra Congress chief Nana Patole has announced that his party will fight the next assembly elections on its own and has also announced the name of the Chief Minister. He also said that he himself will be the next face of the chief minister's post if the party gives permission.