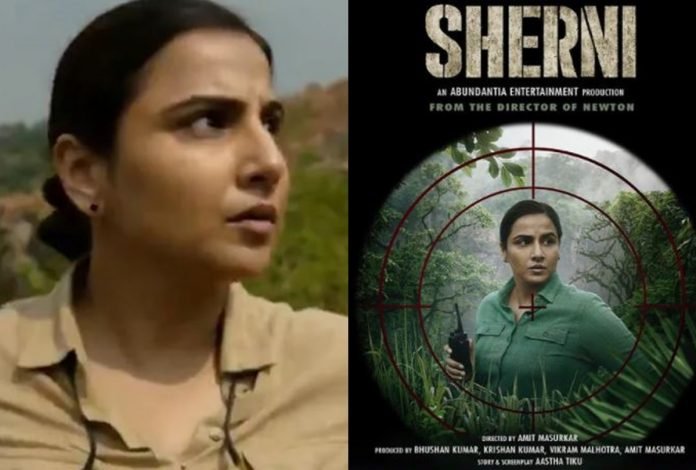 Sherni Movie Review: The true story of 'Sherni' became a political issue| Vidya Balan- Politics is a game that can be played on any issue. In the film 'Sherni', an issue of Sherni and how politics is done on it throughout the film, has been shown very accurately. Those who are confused by the title of this film are thinking that Vidya Balan will be seen as a forest officer who will kill many villains at once. But, they will be disappointed to see this film, as there is no heroic act in the entire film. Yes, Vidya's character is fast-paced, but her character is also like those good people in the real world, who are surrounded by many bad people. Such people want to do a lot, but they are suppressed in the society. Overall, his character is not shown to be extra ordinary and that's because it was important to keep the story true here.
Director Amit V. Masurkar had earlier brought the film "Newton". This film is also very similar. Here too you will see a government servant fighting with the jungle, government office and corrupt people. Just like "Newton". In 'Ek Sherni' also, some bitter truths and evils of the society have been taken a dig at. Deciding to make a film like this is a compliment in itself.
The story is woven around Forest Officer Vidya, who is tracking down a Sherni who has killed several villagers. Some people working with him are good and some people are bad. Vidya tries to catch this Sherni and release it in the national park, but some people want to kill that Sherni. And some are doing politics on it. Now in the end, whether Vidya will be able to succeed in her efforts or not, the whole story is based on this.
Apart from Vidya Balan, actors like Brijendra Kala, Neeraj Kabi, Sharad Saxena, Vijay Raj, Ila Arun and Mukul Chadha are also seen in the film. Everyone has done their part well. Whenever Vidya appears on the screen, a positive feeling remains. If you are a nature lover, then the jungle visuals featured throughout the film will win your heart. Apart from this, the only song of the film "Bandar Baant" also speaks a lot. The dialogues of the actors are like we talk in normal routine.
At the same time, there are some scenes in the film, in which there is no dialogue and they look more tremendous on the basis of the expressions of the actors. There is a dialogue in this, where Vijay Raj says – "Tiger is in that forest and he has to go towards this forest. Now in the middle we have made a highway on one side and factory on one side. How will he go from this forest to that forest. ?" It makes us realize that we have not left any space for animals to live. Overall, the film talks about corruption, takes a dig at the malevolent society and at the same time beautifully describes the relationship between man and animal.