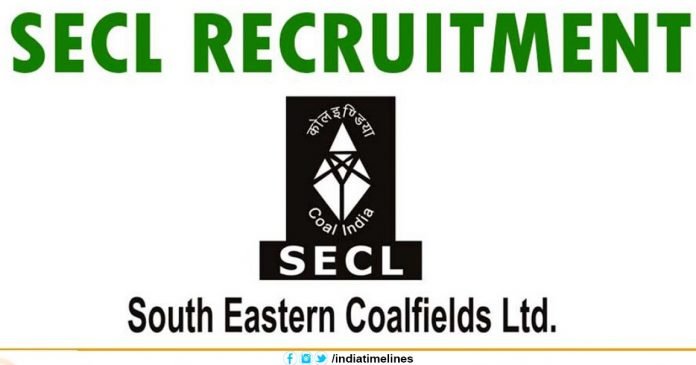 SECL Recruitment 2019: The South Ratna Company, South Eastern Coalfields Ltd, Bilaspur, Government of India has invited applications for SECL Recruitment 2019 on the posts of Trade Prentice. Under this, appointments will be made for a total of 5,500 posts. These posts will be filled up for one-year training according to various trades. Interested and qualified candidates will have to apply online in these positions. The last date for applying is July 23, 2019.
Details of SECL Recruitment 2019 according to the post
Computer Operator and Programming Assistant (COPA), Post: 1,400 (Unreserved: 560)
Stenographer (English), Post: 50 (Unreserved: 21)
Stenographer (Hindi), Post: 50 (Unreserved: 21)
Secretarial Assistant, Post: 50 (Unreserved: 21)
Electrician, rank: 1600 (Unreserved: 640)
Fitter, rank: 1500 (unreserved: 600)
Welder (Gas and Electric), Post: 390 (Unreserved: 158)
Turner, rank: 50 (Unreserved: 21)
Mastering, Post: 50 (Unreserved: 21)
Diesel Mechanic, Post: 120 (Unreserved: 50)
Draftman (Civil), Post: 25 (Unreserved: 12)
Draftman (Mechanical), Position: 15 (Unreserved: 08)
Mechanic Auto Electrical and Electronic, Post: 100 (Unreserved: 40)
Plumbers, rank: 50 (unreserved: 21)
Carpenter, Position: 50 (Unreserved: 21)
Qualification: ITI will be in the trade related to the recognized institution.
With this, according to the trade, the eighth /tenth-grade pass.
Age Range
The minimum age of candidates for COPA, Stenographer, Draftman and Secretarial Assistant Trade must be 16 years.
The minimum age for other posts is 18 years.
Age limit will be calculated as per 23 July 2019.
Stipend: Rs 7,655 for all posts
Selection Process: Eligible candidates will be selected according to the scores in the academic qualification.
Application Fee: There will be no fee to the candidates for these posts.
View notifications here
Login to the website first (www.secl-cil.in/).
Click on the ad heading Notification for trade apprentices engagement link in the latest news section on the top of the homepage.
This will open a detailed advertisement issued regarding vacancies. Read this carefully and check your eligibility according to the posts.
Application Process for SECL Recruitment 2019
Login to the website (www.apprenticeship.gov.in).
When the homepage opens, click the registration link given in the square box.
This will open the registration webpage. Here are the first to enter personal details.
Enter your complete address, mobile number and e-mail ID in the contact details below.
After this, you will have to enter your educational qualification information.
Now you have to fill up technical information and trade-related information.
After this, you will have to upload scan passes of your colourful passport size photograph and birth certificate documents.
The size of the passport size photograph should be between 10 KB to 200 KB and this file should be in JPG / JPEG / GIF / PNG format.
The certificate is a maximum of 200 kb. Also, its format should be in Doc / Docs / PDF / JPG.
Check the information you've submitted in the registration form again once again before submitting.
After fully satisfied, press on a submit button.
After registering online, you will get login details on your e-mail ID.
Then complete the application process according to the guidelines.
Important date
Last date for applying online: 23 July 2019 (till 12 pm)
More info about SECL Recruitment 2019
Phone: 07752-255059 (SECL)
Prentice Help Line: 01204405016/17/18/19/20/21
Website: www.secl-cil.in, www.apprenticeship.gov.in and For the latest updates, you can visit www.indiatimelines.com.