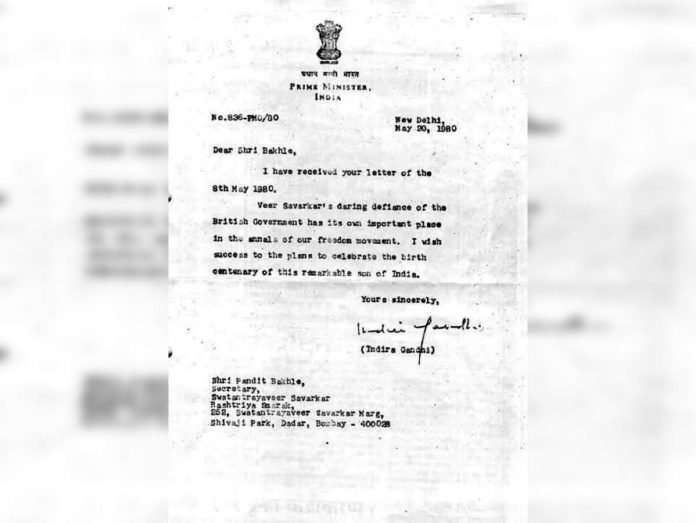 Savarkar Controversy: When Iron Lady herself praised Veer Savarkar: read that letter- Remember the 2019 Maharashtra elections… Then suddenly Veer Savarkar had become a big issue in the assembly elections. Then the BJP had announced that if voted to power in Maharashtra, it would recommend the name of Veer Savarkar for the country's highest civilian award, the Bharat Ratna. After this, Congress had raised many questions on Veer Savarkar.
It was even argued that he had written an apology to the British for coming back from Kalapani, so he is not entitled to Bharat Ratna. The same story is being repeated again in October of 2021. But at that time a letter from Indira Gandhi (Indira Gandhi Letter to Savarkar Family) forced the Congress to come on the back foot.
When Iron Lady praised Veer Savarkar
Even though Congress vociferously opposed Savarkar in 2019 during the Maharashtra elections at that time, but the same Congress has also read ballads in his honor in the past. In 2019, Union Minister Jitendra Singh made a tweet that contained a letter written by the then Prime Minister Indira Gandhi in 1980.
In this tweet, Jitendra Singh wrote that 'Indira Gandhi had praised Veer Savarkar by writing in a letter when he was the Prime Minister'. Meanwhile, BJP leader Amit Malviya claimed that Indira Gandhi had donated Rs 11,000 from her personal account to the Savarkar Trust, apart from issuing postage stamps in the honor of Savarkar. According to the claim, Indira Gandhi had directed the Films Division to make a documentary on the 'great freedom fighter' and she herself had cleared it.
Why is there a ruckus now?
In fact, a new political storm arose due to the claim made by Defense Minister Rajnath Singh on Tuesday about Veer Savarkar. Rajnath said that Savarkar had filed a mercy petition before the British at the behest of Mahatma Gandhi. Rashtriya Swayamsevak Sangh chief Mohan Bhagwat was also present in the program in which Rajnath made this claim. He said that as part of a well-thought-out conspiracy, "a campaign to defame Savarkar was carried out". On Singh's claim, many parties, including the Congress, the Left, accused the central government of 'writing history in a whimsical manner'.
Veer Savarkar's book
The fact is that in his book 'The History of the War of Indian Independence' originally written in Marathi, Savarkar had termed the 1857 battle as the first war of India's independence. This was also accepted by the first Prime Minister of the country, Jawaharlal Nehru, and kept advocating for it to be considered as the first war of independence of the country. Later, the Government of India officially also declared the battle of 1857 as the country's first war of independence.