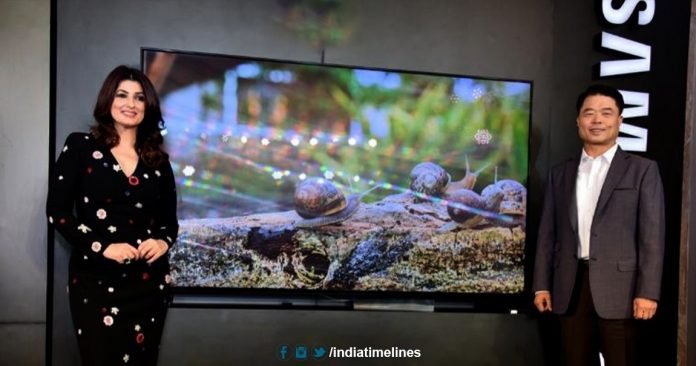 Samsung Launched First QLED 8K TV- Samsung India launched the world's first QLED 8K TV on Tuesday. With Samsung QLED 8K TV, the company has created a new industry benchmark in TV Technology and has luxury homes in its targets. The special features of this TV are a Real 8K resolution, 8K AI upscaling, Quantum Processor 8K and Quantum HDR. These features are included in the special 8K experience.
Samsung QLED 8K TV has been introduced in four sizes – 98-inch (247 cm), 82-inch (207 cm), 75-inch (189cm) and 65-inch (163 cm) and these TV models are 33 million pixels Will come along. Which will be four times higher than 4K UHD TVs and 16 times higher resolution than full-HD TV models.
Samsung Launched First QLED 8K TV: Price & Specification
The Samsung QLED 8K TV's 75-inch model costs Rs 10,99,900, the 82-inch model costs Rs 16,99,900 and the 98-inch model has been priced at Rs 59,99,900. The 98-inch model will be made only on orders. The 65-inch model will be made available in sales in July and after some time its price will be announced.
The most important thing about the new TV models is that the Quantum processor has been given 8K. This will update any content that users are also seeing through HDMI, USB or set-up box, from their base resolution to 8K resolutions. That is, this TV is magical. At the moment we do not have much 8K content but will transform TV content in its 8K resolution instead of its original resolution. There will be better brightness, optimized sound and better overall output.
Voice commands have been supported in these TV models, so you can control the TV from any corner of the room. Bixby 2.0 and Google Assistant have also been supported to access content from voice command here. Apart from this, Apple AirPlay 2 has also been supported in these new TV models, so that users can mirror and watch the content directly from their Apple Devices. For the latest updates, you can visit www.indiatimelines.com.
Apart from this, there is also an Ambient Mode feature, which turns QLED 8K TV into art piece after hanging the wall. There is no gap during mounting it in the wall, which makes it sit better in the interior of the TV room. In addition to the QLED 8K range, the company has also updated the QLED TV lineup for 2019. Their initial price is Rs. 3,99,900.