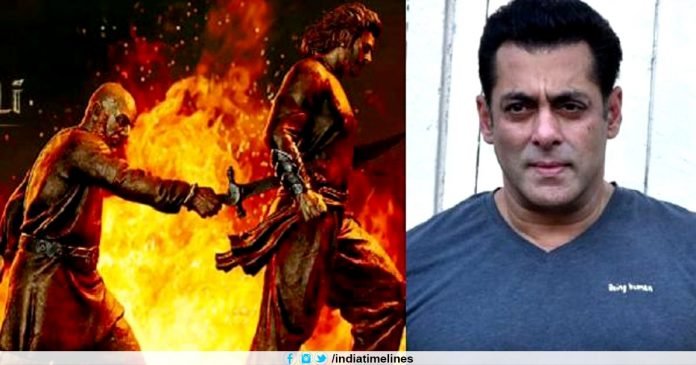 Salman Khan still doesn't know why Kattappa killed Bahubali: Bollywood's Dabang Hero Salman Khan is busy with the promotion of his upcoming movie 'Bharat'. Salman Khan's film has a very short time left to release. For this, Salman Khan is promoting the film in many events. Along with this, Salman is seen appearing in the event, giving answers to his queries, happily. In the meantime, when the media responded by Salman khan to Bollywood and superhit film 'Bahubali: The Beginning' and 'Bahubali: The Conclusion', Salman Khan responded in a very funny manner. Replying to the media, Salman Khan said, "I have seen the first part of Bahubali but there is no chance to see the second part." Talking about Bahubali, Salman Khan further said, 'I do not know why Katappa killed Bahubali because of not seeing the second part of Bahubali.' As soon as Salman Khan responded, everyone present at the event was shocked. Changing his point of view, Salman Khan said, "I have recently seen the movie "Taqdeer".
Salman Khan still doesn't know why Kattappa killed Bahubali
Let us tell you that the 'Bahubali' that came in 2015 entertains the fans still today. The film left a question in Climax that after all, Why Katappa had killed Bahubali in the film. In view of this, the viewers got the answer in the second part of the film. But Salman Khan still does not know the answer to this question.
Talk about the movie 'Bharat', this movie is going to release on Eid, i.e., on June 5. With Salman Khan and Katrina Kaif will be seen in Lead Roll. Disha Patni and Jackie Shroff will also be seen playing a key role in the film. For the latest Info and more updates, you can visit www.indiatimelines.com
When Salman was asked if did he feel that Priyanka was not right for the character of this film? Salman further said that I told Ali why Katrina is not right for this role? She has been living in India for the past 20 years, but Ali said that Priyanka's call came. Salman also said that after this, Priyanka married Nick, but she refused to work in the film five days before the film's shooting began. They should have thought that it might make us feel bad. Well, she did what she wanted and Katrina got what she deserved.