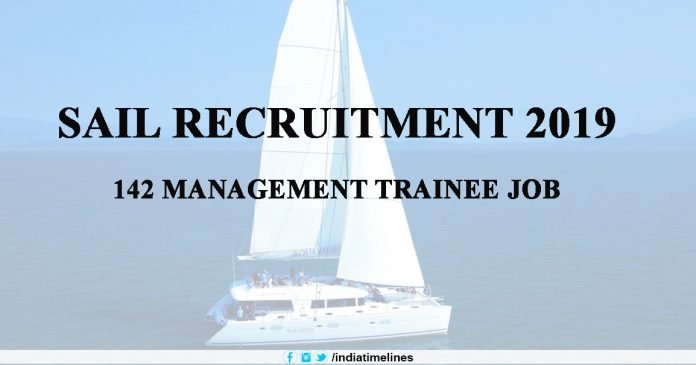 SAIL Recruitment 2019: India's Maharatna Company, Steel Authority of India Limited has invited applications for filling up 142 posts. Under this, management trainee (technical) will be appointed. These posts will be filled on a one-year training basis. After successfully completing the training period, the candidates will be appointed as Junior Manager. Interested and qualified candidates will have to apply online for these posts. The last date for application is 14 June 2019. Read further for more information related to the vacancy:
Details About SAIL Recruitment 2019
Management Trainee (Technical), Total Position: 142 (Unreserved: 59)
(Details of posts subject to the subject)
Mechanical Engineering, Position: 66
Qualification: Mechanical Engineering / Mechanical and Automation Engineering / Production and Industrial Engineering / Production Engineering / Mechanical Production and Tool Engineering / Industrial Engineering / Thermal Engineering / Manufacturing Processing and Automation / MacTrronics / Manufacturing Engineering / Manufacturing and Engineering with minimum 65% marks. / Energy Inge BE / B.Tech degree in Engineering / Machine Engineering / Micronics and Automation Engineering.
Metallurgical Engineering, Position: 07
Eligibility: BE / BTech degree in Metallurgical Engineering / Material Science / Industrial Metallurgy with minimum 65% marks.
Electrical Engineering, Position: 41
Eligibility: Electrical engineering / electrical machine / power system and high voltage engineering / power plant engineering / electronics and power engineering / power electronics / power engineering / electrical instrumentation and control engineering / electrical and instrumentation engineering / electrical and mechanical with minimum 65% marks. Engineering / Electrical Powder Be BE / B.Tech degree in Engineering / Electrical and Electronics Engineering.
Chemical Engineering, Position: 10
Eligibility: BE / BTech degree in Chemical / Chemical Electro Chemical Engineering with minimum 65% marks.
Instrumentation Engineering, Position: 15
Eligibility: Electrical Engineering / Electrical Instrumentation / Electronics and Communication / Electronics and Telecommunication / Electronics and Control / Industrial Electronics / Applied Electronics / Electronics Design and Technology / MacTronics / Electronics and Electrical / Electronics and Power / Electronics Communications with minimum 65% marks. Become a BE / B Tech Degree in Nutrition and Instrumentation / Instrumentation Engineering / Instrumentation Control / Robotics and Automation / Automation and Robotics / Communication Engineering / Control and Instrumentation Engineering.
The vacancy, which should be passed in the High Court, should be the qualification
Mining Engineering, Position: 03
Eligibility: BE / B Tech degree in mining engineering/mining and machinery engineering / mineral engineering with minimum of 65% marks.
In addition, for all the above-mentioned positions, get a valid gate score in the respective subject.
Pay Scale
20,600 rupees during training
Training completion is 24,900 to 50 thousand rupees.
Age Range
Maximum 28 years on June 14, 2019
The maximum age limit will be for OBC candidates, three years for SC / ST, five years for divisors and 10 years for divisions.
Selection Process for SAIL Recruitment 2019
Eligible candidates will be shortlisted through the academic qualifications and marks obtained in the GATE-2015 exam.
Then the candidates will be called for group discussion and interview.
SBI RECRUITMENT 2019: Bumpers Recruitment for Graduates
Application fee
700 rupees for general and OBC category candidates.
100 rupees for SC / ST / Divanges / EWS category
Fees can be paid through credit card/debit card/internet banking/payment invoice via SB Collect.
SB Collect Account Number: 34669119094
Branch: Lodhi Road Branch New Delhi
Application Process for SAIL Recruitment 2019
Login to the website first (www.sail.co.in).
Click on the top career section on the homepage. This will open a new webpage.
Click the View All link in the Jobs section here. Click on the SAIL through GATE-2019-ENGLISH link for the recruitment for the post of Management Trainee (Technical) below the title of MT Recruitment on the newly opened webpage.
This will open a detailed advertisement issued regarding vacancies. Read this carefully and check your eligibility according to the posts.
To apply online, you have to come back to the previous webpage. Here are links to the post applied to the ad link.
Click on the link for the requested position. On the webpage that opens, tap the Apply Now button.
By doing this, the online application form will open on your computer screen.
Fill it according to the guidelines in the ad. You will also have to upload your passport size photograph, signature, thumb mark and the gate letter of the GET-2015 exam and upload it.
Size of passport size photograph should be of 50 KB, signature and thumb mark size of 30 KB and gate-2015 admit card size up to 300 KB.
All files uploaded must be in JPG / JPEG format.
Be sure to check the completed application one time before final submission. After fully satisfied, submit the application.
-Pay the Sail application fee as per your job category. After this, take the printout on the application's A4 size paper and keep yourself safe for future use. For any query, you can visit www.indiatimelines.com.
Important date
Last date for applying online: 14 June 2019
More info here
Phone: + 91-7289060457
E-mail: helpdesk@sailcareers.com
Website: www.sail.co.in