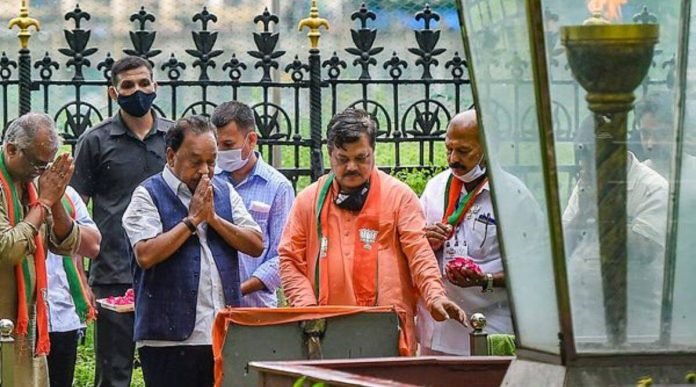 Ruckus after Narayan Rane's controversial statement on Uddhav Thackeray- Politics has heated up after Union Minister Narayan Rane made derogatory remarks about Maharashtra Chief Minister and Shiv Sena chief Uddhav Thackeray. Shiv Sena has become aggressive and Shiv Sena workers vandalized the BJP office in Nashik. Along with this, a case has been registered against Narayan Rane in Nashik. Nashik Police has ordered arrest and issued a warrant.
Narayan Rane gave this statement about Uddhav Thackeray
Narayan Rane had given a controversial statement about Uddhav Thackeray and said that he (CM) would have given him a slap if he was there, as the Chief Minister during his address to the citizens on 15 August Freedom forgot the year. "It is shameful that the Chief Minister does not know the year of independence. He leaned back during his speech to ask about the counting of the years of independence. Had I been there, I would have given him a hard slap.
Shiv Sainiks pelted stones at Narayan Rane's house
Shiv Sena workers are angry after the controversial statement on Uddhav Thackeray and have pelted stones at Narayan Rane's bungalow in Juhu, Mumbai. Apart from this, supporters of Narayan Rane and Shiv Sena have clashed and are throwing stones. Seeing the matter increasing, the police has started action.
Narayan Rane preparing to go to High Court
Seeing the increasing controversy in the matter, Union Minister Narayan Rane is preparing to go to the High Court. It is being told that after talking to his lawyer, he can file a petition for anticipatory bail in the High Court. On the other hand, Shiv Sena MP Vinayak Raut has written a letter to PM Narendra Modi demanding suspension of Narayan Rane.
Targeting Maharashtra government regarding Corona
During Jan Ashirwad Yatra, when a journalist told Narayan Rane that there is a danger of third wave of corona in the state and children are at greater risk, so the Chief Minister has asked to avoid the crowd. Narayan Rane got angry on this and he said, 'They (Maharashtra government) do not know what they will tell us. Which doctor are they? Where did the sound of the third wave come from? And he also used to say that children are in danger and scare people. Don't speak evil.'