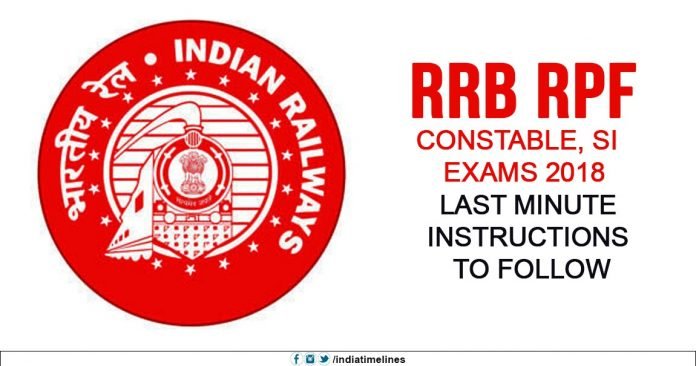 RRB RPF Exams 2018: RRB RPF Constable and SI Exams 2018 The Railway Recruitment Board (RRB) will conduct Constable, SI test on Wednesday 19,2018. The Examination will be conducted in 15 languages and the RRB examination period in 90 minutes.
RRB RPF Constable and SI Exams 2018
The board had previously advertised for 9,739 vacancies, which included Constable Male 4403, Constable Fem-4216, SI (Sub Inspector) Male-819, SI (Sub Inspector) female -301.
RRB RPF Constable and SI Exams 2018: Last minute instructions to follow
Call Letter: Make sure you place your ID in your bag with some ID proof (base). Candidates should keep in mind that if they fail to carry it, then they will not be allowed to enter the Examination Room in any case.
Identity proof: Candidates will also have to take a photo identity proof along with the duly certified photo/identity card issued by the school/college/ gazetted officer such as passport/base/ PAN card/driving license / ID card of the voter/bank passbook. Self-certified photocopies along with the original are also available. This inventor should be deposited with the call letter
Items prohibited: Do not take electronic gadgets inside mobile phones or any other communication devices like an exam room.
Time Management: There is a holistic time frame to complete each section. Answer the questions for which you are 100 percent fixed. Do not consider a special question for a long time. It is always better to solve all the questions that you believe about. Later, you can try those people who you suspect or are unsure about.