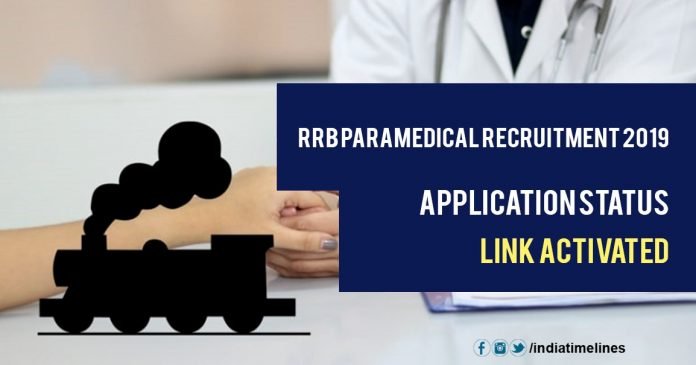 RRB Paramedical Recruitment 2019:- Railway Recruitment Board (RRB) has approved the state link application of paramedical staff recruitment. These links appear on the websites of all Regional RRBs. In March 2019, the Railway Recruitment Board (RRB) started the application process for recruitment of medical staff vacant 1937 posts. Candidates who have applied can visit their Regional Website of their Railway Recruitment Board and check their application status. By clicking the link, the candidates will have to enter their registration number and birth date details. After submitting, they will know that their application has been accepted or rejected.
RRB Paramedical Recruitment 2019
In March, the Railway Recruitment Board (RRB) started registration for recruitment of 1937 posts of medical staff. In the paramedical staff recruitment of Railways, there are posts of Dietian, Staff Nurses, Dental Hygienist, Physiotherapist, Pharmacist and Lab Assistant. These posts are from Level 4 to Level 7, for which honorarium upto Rs 44000 is fixed.
CBT of candidates whose applications have been accepted will be held in July.
RRB Paramedical Exam Admit Card 2019 – Download
Railway Recruitment Board will soon issue the NTPC Exam (Non-Technical Popular Category) Examination Schedule. Examinations can be conducted between June and September. Railway Recruitment Board can issue the admission card of CBT Examination very soon. On the day the candidate will be examined, his admit card will be issued exactly four days before the examination. The Railway Recruitment Board will issue the Admit Card of NTPC CBT-1 examination on all regional websites of RRB. Candidates will be able to download their Admit Card by logging in to their Region website. For latest information visit www.indiatimelines.com
How to Download RRB NTPC Admit Card 2019
– Visit your region's RRB website.
– Click the link on NTPC Admit Card given on the website.
– Log in by filling up your registration number and date of birth.
– Admit card will come to your screen. Download it and print it out.