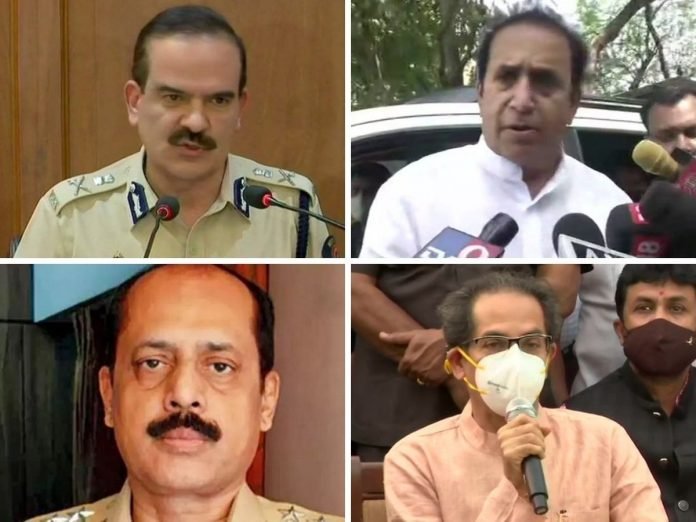 Recovery of Rs 100 crore: Parambir 8.54 crore; 3 companies and 8 vehicles of Sachin Vaze- Former Mumbai police commissioner Parambir Singh, who was caught in the Sachin Vaz case, has accused former state minister of state Anil Deshmukh of recovering Rs 100 crore. In this case, the Bombay High Court has ordered a CBI inquiry on Deshmukh on a second petition. After this Deshmukh has resigned from his post.
The CBI will interrogate Parambir Singh, the former commissioner who accused the minister in this case. We are telling you about the property details of three prominent characters Parambir Singh, former Home Minister Anil Deshmukh and arrested Assistant Police Inspector (API) Sachin Vaze in this whole case.
Parambir Singh, DG Homeguard, property Rs 8.54 crore
Parambir Singh owns agricultural land in Haryana. Currently, its value is 22 lakh rupees. This land is completely named after him. It earns an annual income of 51 thousand. In 2003, he bought a flat in Juhu area of ​​Mumbai for Rs 48.75 lakh. Currently, its value is Rs 4.64 crore. It is also by his name. The annual income from this comes to Rs 24.95 lakhs. There is another property in Juhu itself. However, they have not given its price. Parambir Singh's monthly salary is 2.24 lakh rupees.
3.60 crore flat in New Mumbai
Similarly, I bought a flat of Rs 3.60 crore in New Mumbai in 2005. However, at this time he has given a value of Rs 2.24 crore. It is named after him and his wife Savita Singh. With this, his annual income is Rs 9.60 lakh. He has a house in Chandigarh which is worth 4 crores. It is named after him and two brothers. It was named after his father Hoshiar Singh. He owns land in Faridabad, Haryana. Its present price is 14 lakh rupees. It is named after Parambir Singh. He bought it in 2019.
Anil Deshmukh owns property worth Rs 7.16 crore
Home minister Anil Deshmukh has a property worth Rs 7.16 crore. This has been revealed from the papers submitted during the election. It has agricultural land worth 27 lakh rupees. The price of non-agricultural land is 12.54 lakh rupees. There is a commercial building which is worth 1.64 crores. All these are in rural areas of Maharashtra. They each have a flat in Worli and New Mumbai areas of Mumbai, which is valued at Rs 3.53 crore.
Worli's flat was bought in 2002
Worli's flat was purchased in 2002 for Rs 55 lakh, while the New Mumbai flat was purchased in 2013 for 23 lakh. His wife's name is also mentioned in this. Similarly, he has land worth Rs 1.59 crore in other lands. It is named after him and his wife. In this way, the total value of the property in his name is currently Rs 3.07 crore and the property in the name of his wife is worth Rs 4.08 crore.
3 companies and 8 vehicles of Sachin Waze
Arrested Assistant Police Inspector Sachin Vaze has 3 companies. It has multibuild infraproject, technical solutions and DG Next Multimedia. His partner has two Shiv Sena leaders. Their names are Sanjay Mashelkar and Vijay Gavai. Sachin Vaze has 8 vehicles. Also, the cost of an Italian Benelli company's sports bike is around Rs 7-8 lakhs. The price of 8 luxury cars and one bike is being reported in crores. Whereas the price of the flat in which they live in Thane is also being told to be one crore. The monthly salary of Sachin Vazh is about 70 thousand rupees.
Amitabh Gupta, Pune Police Commissioner, Assets- 19.50 crores
Who does not know Amitabh Gupta. While he was secretary in the Home Department, he was removed because he had sent a special letter to Khandala from Mahabaleshwar during the Corona last year to the Wadhawan family of DHFL and 25 people involved in the Yes Bank and PMC Bank scams. For this, he gave the names of passengers and details of 6 cars on his official letterhead. He had described Wadhawan as his friend. When the complaint was received, the government hurriedly removed them. However, a few days later, he was made the Police Commissioner of Pune. They are right there.
4.50 crore flat in Bandra
Amitabh owns a flat in Bandra area of ​​Mumbai. It was bought in 2005 for 37 lakhs. Today its price is 4.50 crores. The flat is named after his wife Jugnu and his wife. Their income from this is Rs 31.65 lakh annually. He owns 792 square meters of land in Pune. It was bought in 2015 for Rs 3.46 crore. Currently, its value is 4.5 crores. This land is also named after him, wife Jugnu and son.
10.5 crore flat in Santa Cruz
He owns a huge 2,220-square-foot flat in Santacruz, Mumbai. He bought it for 9.7 crores. The project will be completed by 2024. It is currently priced at Rs 10.5 crore. It is also combined in the name of Jugnu, him and son and father. He bought this flat from Summer Radius Realty. However, this company is also only 5 years old. In this, he has given 90 lakh rupees as part payment.