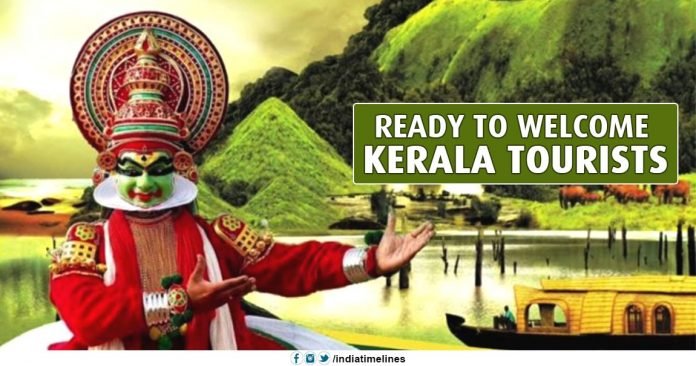 Kerala is Ready to Welcome Kerala Tourists: In a press conference held in Mumbai recently, officials of Kerala Tourism Authority said that more than 260 people were killed and displaced more than 1 million people after the weak flood of 12 out of 14 districts, welcoming tourists of Kerala Ready to do. Kerala Tourism Secretary Rani George said, "We conducted a tourist preparation survey in 17 major tourist spots between September 5 and 15." "We investigated the situation of connectivity, hotels, resorts, etc. and found that 90% of the destinations are ready for operational and tourists." "In it are included in Munnar, Thekkady, and Alappuzha," she said.
Rani George said: We are Ready to Welcome Kerala Tourists
She said that the basic infrastructure in Pamba has suffered serious damage, which is being handled by the Sabarimala Devaswam Board in a time-bound manner. Until the pilgrimage starts in November, the tourism body Ready to Welcome Kerala Tourists. She said the remaining places are coming back in general, in 10% of a scheduled destination in September, including Thrissur, Mouk. Etc.
Although in August, in the middle of the flood, it did not seem to be a great year for the tourism body. George said, "For November-December, we got some cancellations," without specifying a percentage or number. "But most cancellations were from domestic tourists and not more than foreign tourists," she said.
What is the role of tourism in the reconstruction of Kerala after the flood?
Kerala's tourism sector has direct and indirect annual revenues of $ 4.8 billion, of which $ 1.2 billion is included in foreign exchange earnings. This area has created more than 1.5 million jobs for the people of Kerala. This is a very important part of rebuilding.  We can assure you that most travel and tourism industry in the state is ready to receive guests.
What are the immediate steps by the tourism department?
We started a survey to prepare quick tours from September 5 to September 15 in 70 destinations in all 14 districts of the state. Surveys have shown that 38 out of 70 destinations were unaffected and 22 affected destinations were restored. Only 10 destinations were operational or partially operational. In the case of connectivity of these sites, 25 were unaffected, While access to 37 was restored. Partial connectivity was available in eight destinations where repair work was in progress. During the flood, our entire department and stakeholders were fully involved in rescue and relief. We used tourism sector boats, buses, hotels and guesthouses for rescue and relief.