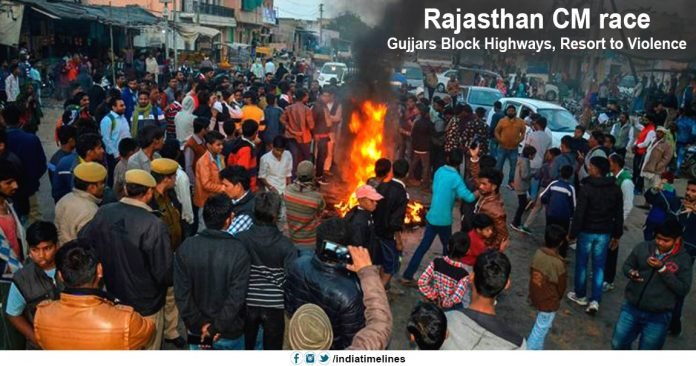 Rajasthan CM Race: The Congress party's high order was taking a decision on the next Chief Ministerial candidate, in many parts of the state, incidents of voice including Ajmer, Karauli, and Dausa were seen. Angry protesters blocked the highways, although they sometimes disputed by the police. To ensure peace, heavy security was established in Jaipur Airport, Pradesh Congress Committee (PPC) office, and Raj Bhavan.
Rajasthan CM Race: Ashok Gehlot vs Sachin Pilot
Senior police officers of Rajasthan Police Headquarters were holding a review meeting on the situation. "IG and SP have been specifically asked to ensure law and order in any case.
Rajasthan CM Race still continues, PCC chief Sachin Pilot and former Chief Minister Ashok Gehlot also appealed to party workers to maintain law and order. "I urge the party workers to maintain peace and show discipline, I have complete faith in the leadership of the party and we will welcome whatever Rahul Gandhi and Sonia Gandhi will decide," Pilot tweeted, "All dedicated It is the responsibility of the party workers to maintain dignity. "
Ashok Gehlot said, " maintain peace and kindness. I wish party workers to show that they are part of a strictness party."
In Patauli, which is a Gujjar-dominated area, several protesters gathered at the bus stand in Dausa district on the Jaipur-Agra Highway and blocked traffic. "Some of them also brought a tire and set it on fire. The police reached the spot and spread them.
Inspector General of Police VK Singh said, "The movement was seen for only 20 minutes," the traffic has been restored at 6.15 pm via Dausa and Patoli on the Jaisa-Agra highway and it is smooth. "Jaipur Range, whose jurisdiction comes in Dausa.
Similarly, at least 50 protesters blocked the Jaipur-Beawar highway near Ghoghra valley and tire on fire. "It was a block which did not last for more than half an hour. We intervened and spread them over time," said a police official from Ajmer.