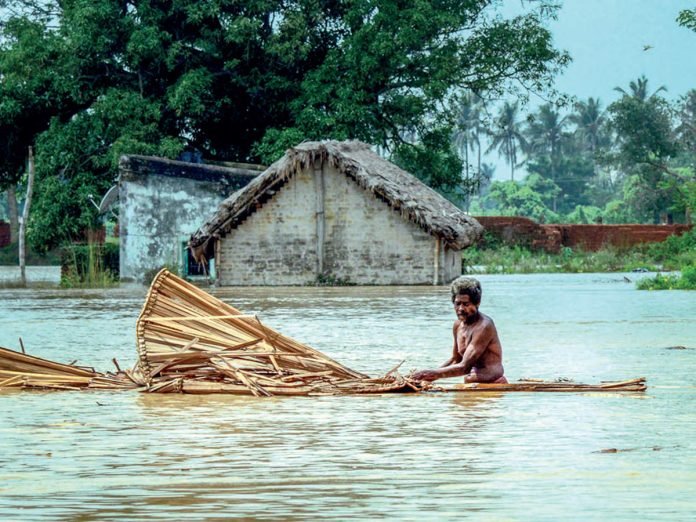 Rain in Madhya Pradesh: 1171 villages in the grip of flood: army called for rescue work- In Madhya Pradesh, the Meteorological Department has issued an orange alert in 25 districts. A red alert has been issued in Gwalior, Shivpuri, Guna, Ashok Nagar, Datia, Sheopur, Morena and Bhind. State Additional Chief Secretary (Home) Rajesh Rajora said that the army has been called for rescue work in Shivpuri, Sheopur, Gwalior and Datia districts. At the same time, Chief Minister Shivraj Singh Chouhan has informed about the situation to Prime Minister Narendra Modi, who has assured to provide all possible help.
Five people were rescued in Pipraudha village of Shivpuri district on Tuesday morning, officials said. Apart from this, three people were trapped on a tree for about 24 hours in Beechi village. These people had climbed the tree to escape and later remained there when they could not find any way out. Chief Minister Chouhan informed that a team of State Disaster Response Force (SDRF) rescued these three people with the help of a boat. He said that an aerial survey of the flood-affected areas will be done.
Chouhan said that a total of 1171 villages of the Gwalior-Chambal region have been affected due to excessive rainfall, especially Shivpuri and Sheopur, where 800 mm of rain has become a flood situation. He said that so far the National Disaster Response Force (NDRF) and SDRF have evacuated 1600 people to safer places. 200 villages are still flooded. Chief Minister Chouhan informed that the help of boats is being taken to rescue the people in the affected areas.
He said, "Due to excessive rainfall, more than 1100 villages of Gwalior-Chambal region of Madhya Pradesh are affected. Shivpuri and Sheopur have received 800 mm of rain in two days. This unexpected rain has created a flood situation. I am in constant touch with the local administration of the flood-affected areas since yesterday. 10 gates of Manikheda Dam have been opened. The affected villages were already alerted. People were evacuated by sending them to higher places and arrangements for relief camps and food have been made.
Prime Minister Narendra Modi spoke to Chief Minister Chouhan regarding the flood situation in the state. The Chief Minister told them that so far more than two thousand people have been shifted to safer places. He also informed the Prime Minister that the officials of the flood-affected districts are on alert. He said that Shivpuri District Collector has informed that the water level is receding. More than 700 people have been rescued. Army officers will reach Narwar and Pahari areas tonight.
Two bridges collapsed in Datia district
Two bridges collapsed due to floods in Datia district. The incident happened after water was released from the overflow Manikheda dam. Many videos of this incident are going viral on social media, in which the bridge is seen taking a water tomb in the strong flow of water. These bridges were one of the major routes connecting Datia to Gwalior. One of these is the same bridge on which more than 115 pilgrims were killed in a stampede in October 2013. Built-in 2009, this bridge connects Datia with Ratangarh, which is famous for its Durga Devi temple.