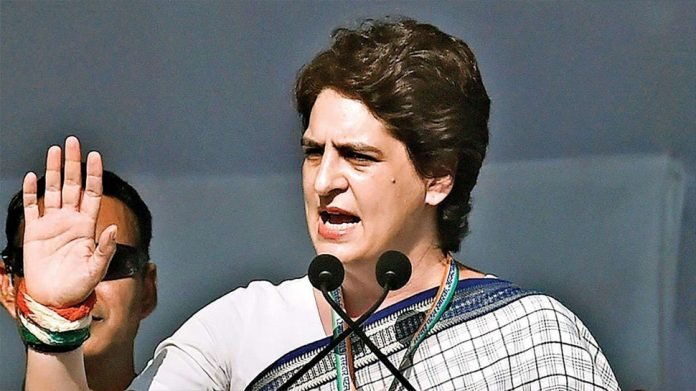 Priyanka Gandhi's big announcement before UP elections- promised 10 lakhs to all the people- Before the assembly elections in Uttar Pradesh next year in 2022, the Congress party is trying to find its land in UP. Before the elections, the Congress party has made a flurry of promises. Meanwhile, Priyanka Gandhi, the National General Secretary of Congress and Chief of Campaign in UP, promised that if the government is formed in Uttar Pradesh, everyone will be treated free of cost up to Rs 10 lakh.
Priyanka Gandhi's tweet
Priyanka Gandhi tweeted, 'Due to government neglect in the Corona period and now due to the fever spreading in the state, everyone has seen the dilapidated condition of the health system of Uttar Pradesh. With the consent of the Manifesto Committee for cheap and good treatment, the UP Congress has decided that if the government is formed, 'any disease will be free, government treatment up to 10 lakhs.'
Priyanka Gandhi unleashed power in UP
Let us tell you that Priyanka Gandhi is continuously active in Uttar Pradesh for a long time. She is trying to connect people with Congress in large numbers.
7 vows of Priyanka Gandhi
Earlier, Priyanka Gandhi had tweeted that she has taken 7 pledges for the development of Uttar Pradesh. Priyanka Gandhi tweeted that women will have 40 percent share in tickets. Apart from this, girls will be given smartphones and scooties. The entire loan of the farmers will be waived off. Wheat-paddy will be purchased from farmers for Rs 2,500 and sugarcane for Rs 400. Everyone's electricity bill will be halved and the arrears of the Corona period will be cleared. The economic hit of Corona will be removed. 25 thousand rupees will be given to every family. Apart from this, 20 lakh people will be given government jobs.
Let us know that in the 2017 Uttar Pradesh Legislative Assembly elections, the BJP alliance had won 325 seats, while the Samajwadi Party had won 47 seats. Apart from this, BSP won 19 seats and Congress 7 seats.