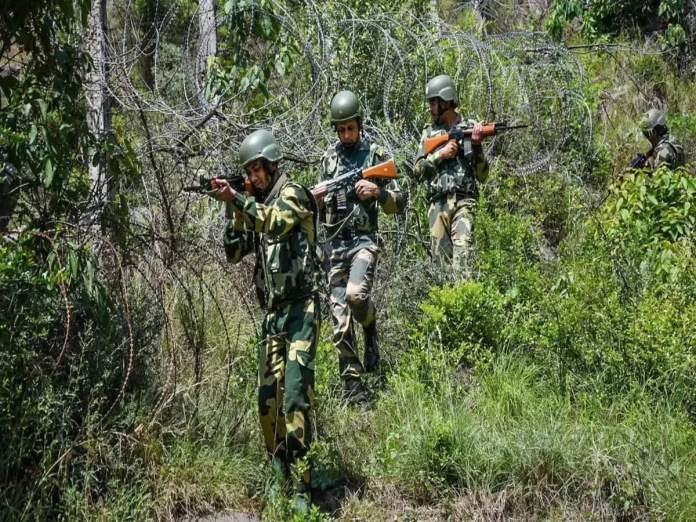 Poonch Encounter: Operation in the forests adjacent to the LoC for 9 days- For the last 9 days, continuous encounters is going on in the forest area falling between the Rajouri and Poonch districts of Jammu and Kashmir. Nine Indian soldiers have been martyred in this area located near the border of Pakistan. It is also being feared that a special group of the Pakistan Army is also involved with the terrorists. Para commandos have been dropped to eliminate them. Understand the whole matter in pictures…
9 soldiers martyred in the encounter in the jungles of Poonch
This is the 9th day of continuous encounter in Poonch. Surveillance is being done by 3 military helicopters and so far 9 soldiers have been martyred. Looking at the manner of the attack, it is not being called a normal terrorist incident. People who have taken special training are expected to be involved in this. Encounter is going on in the forests of Nadh Khas of Mendhar sector.
So is the Pakistan Army's Special Service Group also involved?
There are reports that this time the Special Service Group of the Pakistani Army is also involved with the terrorists of Pakistan. The head and neck of the martyred Indian soldiers have been targeted. This seems to be the job of sharpshooters. Such casualty has never been recorded in Poonch. This area is 10 km away in the dense forests near the LoC.
The terrorists hiding in the dense forests have been confronted 3 times
Till now there have been encounters with terrorists hiding in the area thrice. The first encounter between security forces and terrorists took place on October 11 at Surankote in Poonch and then on the same day in Thanamandi forest in Rajouri district, but the terrorists escaped in both encounters. The third encounter took place on Thursday evening in Nadh Kha's forest in the Mendhar area of ​​Poonch.
This is not a normal terrorist encounter, para commandos also landed
India has been at an advantage in the areas of Bhimber Gali, Mendhar, Mankot, Balakot, and KG sectors since the 1965 war. Without the support of the Pakistani Army, it is impossible for a terrorist group to conduct such a long encounter on the LoC. Especially when para commandos have been deployed from the Indian side.
The activity of drones, terrorist launch pads across the border too?
Amidst the ongoing encounter on this scale in Poonch, the possibility of a big terrorist mission is also being expressed. According to intelligence, any launch pad near Mankot, Balakot, or Mendhar near LoC is full of terrorists. The activity of drones in this area has also happened in the last months. Meaning the terrorists know each and every path.
Mountains, dense forests… The geographical situation became a big challenge
The entire forest area from Mendhar to Thanamandi has been cordoned off and a massive search operation has been launched to trace the terrorists. Considering the geographical location of the area, it is taking more time. The terrain is mountainous and the forest is dense, making the expedition difficult and dangerous.
9 soldiers who got martyrdom, suspects are being interrogated
Last week, five army personnel, including a junior commissioned officer, were killed when terrorists attacked an army patrol party in Poonch's Surankote forest. Four jawans, including another JCO, were martyred in an encounter in the Mendhar sector on Thursday evening. Three people, including mother and son, residing in the Bhatta Daryan forest area, are being interrogated in the apprehension of giving shelter to terrorists.