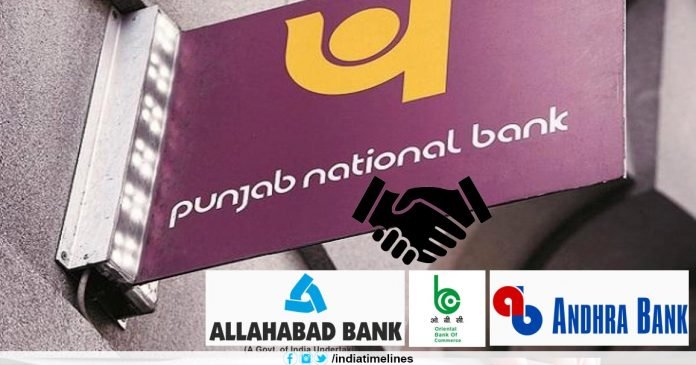 PNB likely to take control of Andhra Bank, Allahabad Bank and OBC- With the clock coming to be a new government, the process of restructuring of banks has accelerated. According to sources, Oriental Bank of Commerce, Andhra Bank, Allahabad Bank may merge in PNB. According to sources, the Center has tried to merge the small and regional banks running in the deficit in a big bank so that they could reduce the debt and provide better facilities to the customers. After the new government comes, this proposal of the merger will be presented to the cabinet soon and PNB can take control of these banks in the next three months. According to sources, the government is considering providing 48,757 crore rupees as a subsidy to provide affordable loans to customers.
PNB likely to take control of Andhra Bank, Allahabad Bank and OBC
Drop in shares
After the news, shares of PNB 2.55 per cent Allahabad Bank's shares were 2.6 per cent and Oriental's shares rolled one per cent.
Earlier Vijaya and Dena Bank Merge in BOB
There are 20 public banks in the country right now. Five subsidiary banks have also been merged with SBI in the year 2017. In the last financial year, LIC took control of IDBI Bank. The merger of Vijaya and Dena Bank in Bank of Baroda has been effective from April 1 this year. After this, Bank of Baroda was the second largest bank after SBI, which has about 9500 branches, 13,400 ATMs, 85 thousand employees and 12 million subscribers. New bank is preparing to close 900 to 950 branches under the expenditure cut. For the latest updates, you can visit www.indiatimelines.com.
Ashwini Rana, general secretary of Delhi State Bank Workers Organization said that no such notification has been issued by the government so far, but perhaps one such proposal is ready. On the merger of Dena and Vijaya Bank in Bank of Baroda, he said that now all the branches and administrative offices are being merged, thereby reducing the new employment opportunities in the banking sector. If Dena and Vijaya Bank will Merge, then the burden of work will increase in that branch and it may also increase the distance of the bank from the customer. It will also affect the candidates. After the merger of Dena and Vijaya Bank, Bank of Baroda has declared the closure of 950 branches two days ago.