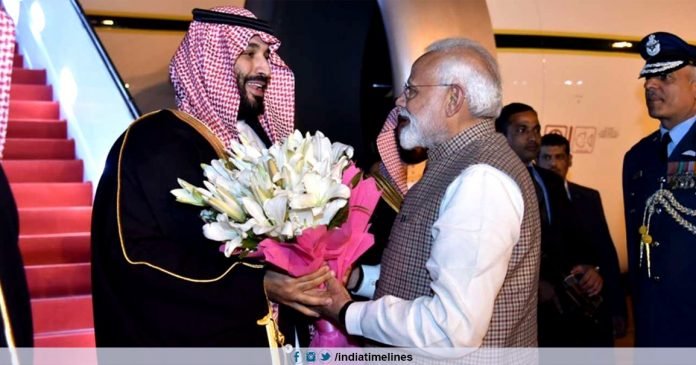 PM Modi receives Saudi Crown Prince Mohammed Bin Salman, terror set to be the focus of talks, In a special indication, Prime Minister Narendra Modi on Tuesday received Crown Prince Mohammed Bin Salman, Saudi Arabia, at the airport, which shows the importance associated with traveling by the leader of a powerful Gulf nation to India.
This is the ninth time when Modi went to the airport to receive a foreign leader. Among the previous leaders, Benjamin Netanyahu of Israel, PM Shinzo Abe of Japan, Crown Prince of UAE, Mohammad Bin Zayed Al Nahyan (twice), PM Sheikh Hasina of Bangladesh, US President Barack Obama, King Abdullah II of Jordan and President of France Emmanuel Macron is included.
PM Modi receives Saudi Crown Prince Mohammed Bin Salman
In a tweet, Modi said that India is "happy to welcome" Crown Prince of Saudi Arabia. After the arrival of Salman, Foreign Ministry spokesman Raveesh Kumar tweeted, "A new chapter in bilateral relations. Breaking the protocol, PM @narendramodi, HRH Prince Mohammed bin Salman bin Abdulaziz Al-Saud, the Crown Prince of Saudi Arabia, to personally visit India on the first bilateral visit! "
The journey started after one day of Riyadh signing a joint statement with Islamabad, where he said that there was a need to politicize the rule of the United Nations list – the leader of the Jaish-e-Mohammad, Maulana Masood Azhar A clear reference to India's efforts to list is a "global terrorist".
Sources said that " border cross terrorism" is expected to dominate the dialogue between the two leaders. During the bilateral talks, New Delhi and Riyadh are ready to deepen their partnership between security, trade, investment, and culture by establishing a "strategic partnership council" at the ministerial level between the two countries. For the latest updates, you can visit www.indiatimelines.com.
Both sides are presumed to sign five agreements in areas of investment, tourism, housing and information, and broadcasting. Both sides are also exploring the possibility of increasing defence engagement with joint production and especially the Navy. In the meeting between NITI Aayog-led delegations and their Saudi counterpart, ICT, healthcare and pharmaceuticals, electronic and manufacturing facilities, housing, etc. were identified as possible areas of special cooperation. MEA's Secretary (Economic Relations) T S Tirumurtisaid, "We are also looking forward to greater cooperation in the field of civil aviation, where there is considerable potential for enhanced links."