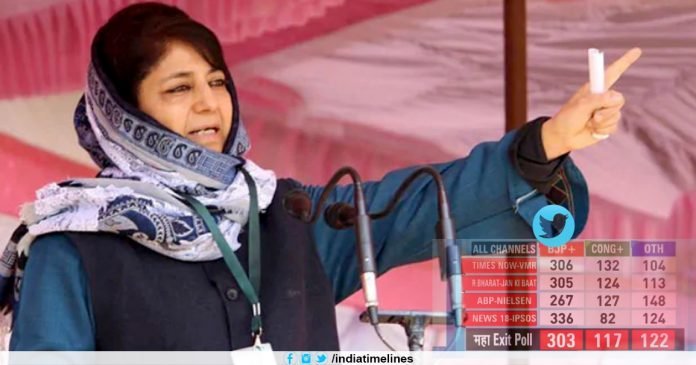 PM Modi Kashmir Meeting Inside Story: What Mehbooba Mufti said- What J&K Leaders told in meeting with PM Modi: An all-party meeting was held in Delhi on Thursday on the issue of Jammu and Kashmir. Leaders of 14 parties from Jammu and Kashmir participated in it. In the meeting, PM Modi said that he wants to eradicate 'Dilli ki Doori' and 'Dil ki Doori'. The PM said that after the process of delimitation, it is in his priority to conduct assembly elections in the state. The big thing in the meeting was that Mehbooba Mufti, who had once said that there would be no one to raise the tricolor after the end of 370, she was seen sitting in front of this tricolour and speaking. Know what happened inside in this three and a half-hour meeting-
silence on pakistan, separatists
According to the report published quoting sources, Mehbooba Mufti kept completely silent on the issue of talks with Pakistan and the separatists in the meeting. Earlier, Mehbooba has been advocating for dialogue with Pakistan on different forums. Mehbooba had raged Pakistan in front of the media even after the meeting of the coalition after getting an invitation from PM Modi for talks. He also has a soft stance towards the separatists. However, when PM Modi and Home Minister Amit Shah were confronted in the meeting, they did not even name Pakistan.
'Pakistan is also a party to the Kashmir issue'
In the meeting, when Mehbooba wanted to demand the return of Article 370 to Jammu and Kashmir, Muzaffar Baig of the People's Conference interrupted her. Baig said that the matter of abrogation of Article 370 and 35A is under consideration in the Supreme Court. Baig said that most of the leaders want full statehood of Jammu and Kashmir to be restored. Apart from this, the land and jobs here should be secured.
will not take the law into your own hands
Omar Abdullah of the National Conference said that we told the PM that we do not support what was done on August 5, 2019. "We are not ready to accept it but we will not take law into our hands. We will fight it in court," he said. Omar Abdullah, like his father Farooq Abdullah and PDP chief Mehbooba Mufti, has been the Chief Minister of Jammu and Kashmir.