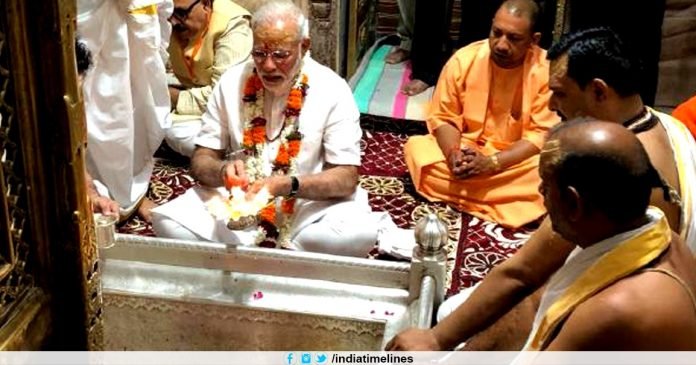 PM Modi arrives in Varanasi:- On Monday morning after winning a massive victory in the Lok Sabha Elections 2019. The Prime Minister has reached Kashi for the first time after winning the election. After this, sitting in the car, left for Kashi Vishwanath temple. BJP President Amit Shah was also present with him.
Prime Minister, reach the temple by going to Chokaghat, Teliabag, Lahurabir, Madagin, Banshet. During this time, he accepted the greetings of the people from the car itself. In the welcome of PM, streets have been decorated. At every crossroads party workers welcomed the PM by flagging the BJP flag.
PM Modi Arrives in Varanasi
Mon, 27 May 2019 12:44:57 (IST)
I was completely relieved of Kashi. Even when the voting was going on, I was still safe, and even when the counting was going on, I was still comfortable. That's why I sat in Kedar Nath: PM Modi
Mon, 27 May 2019 12:43:56 (IST)
You had refused to come in Kashi, so I went to Kedarnath: PM Modi
Mon, 27 May 2019 12:42:07 (IST)
I Always Follow the orders of the workers. This is the only our Success Mantra in life: Pm Modi Spoke in Kashi
Mon, 27 May 2019 12:41:08 (IST)
Kashi's mood was being seen in every country. Kashi showed the whole world a universe: PM Mod
Mon, 27 May 2019 12:39:32 (IST)
PM Modi is addressing workers at Deendayal Handicraft Complex
Mon, 27 May 2019 12:34:58 (IST)
During the last five years of Modi's visit, look at the Ghanta Ghat, look at Kashi Road from the airport, see the work of putting electric wires inside the ground, look at the sewer scheme, everything has been worked out with detail planning: Amit Shah
Mon, 27 May 2019 12:33:24 (IST)
When we had set a target of getting 50 percent votes against the coalition, it had done the trust of Modi's development works. I thank the public for helping us fulfill this goal: Amit Shah
Mon, 27 May 2019 12:30:33 (IST)
Uttar Pradesh Yogi Sarkar is running on the basis of BJP's resolution letter: Amit Shah
Mon, 27 May 2019 12:26:30 (IST)
In 2014, Modi ji fought and won from Kashi and Vadodara. But when it comes to choosing one thing, Modi ji chose Kashi without a moment: Amit Shah
Mon, 27 May 2019 12:25:39 (IST)
Modi ji became MLA from Maninagar Assembly of Gujarat but when he left this assembly, he was the most developed assembly in the country: Amit Shah. For the latest updates, and more details, you can visit www.indiatimelines.com.