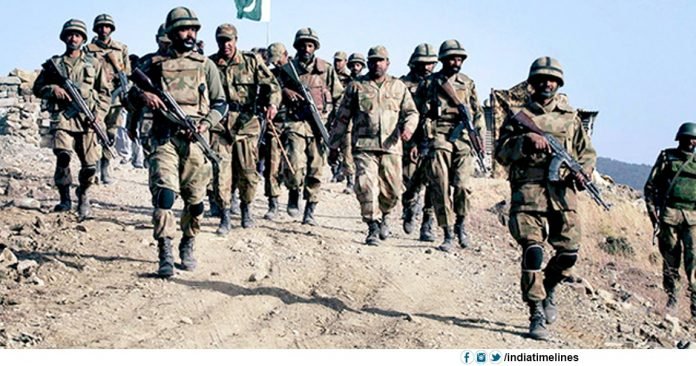 Pakistan army on high alert:- Two weeks after India Air force strikes on Jaish-e-Mohammed Camp in Balakot, the Pakistan Air Force (PAF) is on full operational alert with a full Squadron of F-16 fighter Aircraft stationed on its eastern front, as well as independent satellite as the satellite imagery, the Indian Air Force (IAF) has confirmed the hit Directly on the Camp, Top Defense, and Government officials said on Conditions of anonymity.
According to them, while Pakistan's airspace restriction on the borders with India continues, the headquarters of Rawalpindi deployed at 10 Corps along with a special force brigade from Sialkot of the Pakistan Army to the Line of Control (LoC) in Jammu and Kashmir has gone.
Pakistan army on high alert, lines border with F-16 fighters
"We have confirmed the report that PAF's F-16 has been acquired from both US and Jordan, which is on high alert all over the Indo-Pak border as well as from Sindh to Hyderabad to Skardu in the northern areas. Immediately after the February 14 Pulwama attack, the deployment of the Pak army including the radar and air defense system along with the LoC was strengthened because they had expected Indian retaliation similar to the surgical strike, "one of the officials said," India In response to the terrorist attacks in 2016, terrorists attacked JI in Pakistan after the terrorist attack in Uri. For the latest news, you can visit www.indiatimelines.com.
Officials say that the immediate response to Pakistan's 26 February strike was to speed up the firing that day. According to the collision data, the Pakistani army targeted the Sunderbani, Naushera, Poonch, Bhimber Gali and Krishnaghati sectors with heavy mortar and 120mm cannons after the air strikes. Data accessed by Hindustan Times shows that 19 ceasefire violations had occurred on 26th February 16th, on February 28, 2019, the PAF had counter-attacked and on 26th February. A total of 467 ceasefire violations have been reported in the last two months, as long as accounting 251. 971 violations in 2017, in 2018 this number has increased rapidly to 2140.
Pakistan army on high alert, the entire squadron of F-16 Fighters
Senior officials of the South Block said that the Director General of Military Operations (DGMO) of Pakistan did not take regular Tuesday's telephone calls from their Indian counterparts on 26th February. The Indian DGMO also tried unsuccessfully to make its Pakistani counterpart Islamically acclaimed India the next day. The launch of nine missiles.
The first DGMO level talk was on March 5, with the demand of de-escalation on the LoC with Pakistan DGMO as the Indian side responded in a similar measure to LoC firing. Since then, the LoC has silence in cross-border firing. Officials did not give details of Indian deployment along the LoC but said that the Indian Army is also not taking any chance and is ready for any response.